Cheng Zhengkui
Tweet
Follow the artist with our email alert
(
1604
-&nbsp
1676
)&nbsp-&nbsp
Drawings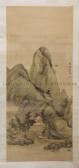 Leslie Hindman /
Mar 28, 2012
€607.58 - €911.37
Not Sold
Find artworks, auction results, sale prices and pictures of Cheng Zhengkui at auctions worldwide.
Go to the complete price list of works
Variants on Artist's name :
Cheng Zheng-Kui
Some works of Cheng Zhengkui
Extracted between 2 works in the catalog of Arcadja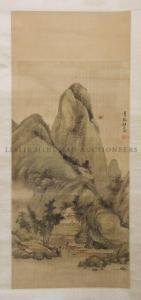 Original -
Lot number:
377
Other WORKS AT AUCTION
Description
:
A Chinese Landscape Painting, Cheng Zhengkui, possibly 17th century, ink on silk, depicting a foliate covered mountain above a small structure and a lake, inscribed at left, mounted on a brocade scroll. Height of image 29 1/4 x width 15 1/4 inches. Estimate $ 800-1,200 Having light to moderate wear throughout, with one 1/2 inch stain to the silk directly to the right of the mountain, with a 1 inch puncture in the lower 1/3 of the painting, otherwise having no visible damage or repairs; the mount having some water staining.

Original -
Lot number:
363
Other WORKS AT AUCTION
Description
:
CHENG ZHENGKUI (1604-1676) POEM IN RUNNING SCRIPT CALLIGRAPHY Scroll, mounted and framed, ink and colour on satin 136 x 40.5 cm (53 1/2 x 16 in.) Signed by the artist: Cheng Zhengkui Two seals of the artist: Zheng Kui Zhi Yin, Xian Dai Ren Shi Seven collectors' seals, including: Pan Zhengwei (1791-1850): Ting Fan Lou Cang; He Yuanyu (19th century): Ju An; and Qing Zhi Lao Ren Jian Shang; Zeng Jing Xiao Yu Lu Cang; Guo Wen Ji Cang; Wen Ji Zhen Cang; De [illegible] Si Yin (YS$5,200-6,500)