William A. Youngblood
Tweet
(
1915
)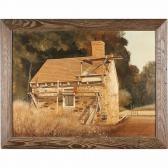 Leland Little /
Jun 13, 2015
€296.71 - €445.07
€259.63

Some works of William A. Youngblood
Extracted between 3 works in the catalog of Arcadja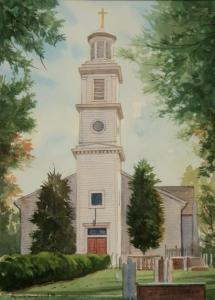 Original
Lot number:
452
Other WORKS AT AUCTION
Description
:
Lot 452 William A. Youngblood (American b. 1915) Historical Manors in Maryland: Seven Works Six signed @ WM A Youngblood and dated '84 l.r., the seventh signed @ WM A Youngblood and dated '84 l.l. and each titled: the first, St. John's Church ; the second, Mulberry Fields, Leonardtown, MD ; the third, Hampden, Trap, MD ; the fourth Kennebsley?, Church Hill, MD ; the fifth Bohemia, Earlervie, MD ; the sixth Calynmanira Manor, Monkton, MD ; and the seventh Preston-on-Patuxent Each a watercolor and graphite on paper; each apparently in good condition. Each framed* Sight size of each approximately: 10-1/2 x 14-1/2 in (26.7 x 36.8 cm) Estimate $800-1,200 Weschler's provides written condition reports, upon request, for any lot in our auctions. Such a condition report is provided as a courtesy to our clients and should in no instance replace first hand inspection by a prospective buyer or his/her agent. All property is sold "as is" in accordance with the terms set forth in paragraph 3 of Conditions of Sale. Neither Weschler's nor the consignor makes any express or implied warranty or representation as to the condition of any lot offered for sale, and no statement made at any time, whether oral or written, shall constitute such a warranty or representation.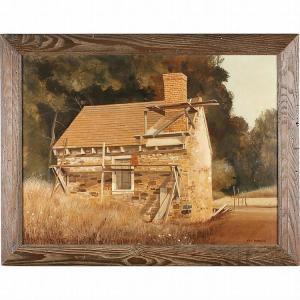 Original
Lot number:
646
Other WORKS AT AUCTION
Description
:
Lot 646: William Youngblood (VA/TN, 1915-2009), "Repairs - Chadds Ford, PA" William A. Youngblood (1915-2009) Description: acrylic on board, signed at lower right "Wm. A. Youngblood," presented in a weathered wood frame, retaining a paper label on the verso. DOA 24 x 31 in.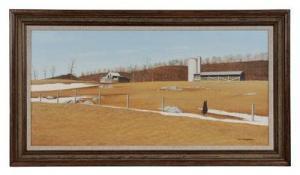 Original
Lot number:
266
Other WORKS AT AUCTION
Description
:
September 11-12, 2010 Lot 0266 William Alan Youngblood (Tennessee/Virginia, 1915-2009), "Foothills, Winter", signed lowerright "Wm A. Youngblood", casein on illustration board, 15 x 30in., modern wood frame, good condition, frame with abrasions Estimate: $500 - $1,000