Gertrude Alice Meredith Williams
Tweet
(
1877
- &nbsp
1934
)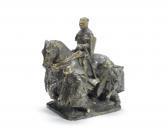 Some works of Gertrude Alice Meredith Williams
Extracted between 1 works in the catalog of Arcadja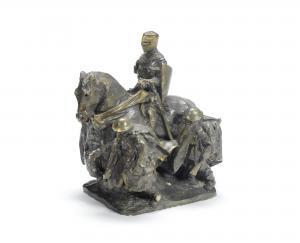 Original
Lot number:
179
Other WORKS AT AUCTION
Description
:
Gertrude Alice Meredith Williams (1877-1934)

A bronze finish plaster cast maquette made by Gertrude Alice Meredith Williams for the First World War Memorial in Paisley, Scotland.

12x7x11ins.(30x18x28cm)

Footnotes

Provenance:

From a house belonging to the Meredith Williams family, 1978.

Designed in 1922 for the competition to produce a War Memorial to commemorate the 1953 servicemen from Paisley that perished in WW1. The final bronze figural piece, depicting a mounted Crusader flanked by four British Infantrymen was called

Spirit of the Crusaders

and was mounted onto a granite cenotaph designed by Sir Robert Lorimer. It was formally unveiled on 27 July 1924 and is located at the junction of Gilmour Street and Moss Street in the town.

Williams also collaborated with her husband on the design of friezes for the Scottish National Monument at Edinburgh Castle. A larger bronze maquette is in the collection of the National Museum of Wales.