Henry Wellington Wack
Tweet
United States
(
1875
- &nbsp
1955
)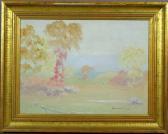 Kaminski & Co. /
Jul 12, 2008
€189.45 - €315.76
Not disclosed

Some works of Henry Wellington Wack
Extracted between 3 works in the catalog of Arcadja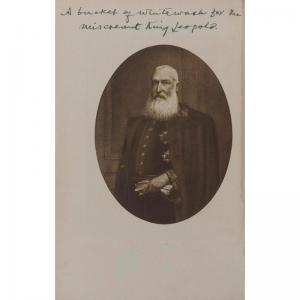 Original 1905
Lot number:
244
Other WORKS AT AUCTION
Description
:
The Story of the Congo Free State: Social, Political, and Economic Aspects of the Belgian System of Government in Central Africa. New York and London: G. P. Putnam's Sons, 1905 In 8s (8Ê x 6? in.; 225 x 156 mm). Photogravure frontispiece of Leopold II, 101 photographic plates, large folding color map of Central Africa, outline map of Africa, errata slip. Publisher's pictorial brown cloth, spine with original brown morocco lettering-piece, top edge gilt; spine label and extremities a bit rubbed. Association copy, from Clemens's library, signed and annotated by him. Wack's apologia defends the Congo Free State (now Zaire), a "great colonising undertaking founded upon modern social science," against the "stories of cruelty and oppression alleged against King Leopold's government" (preface). Wack's work may have been inspired in part by Clemens's own polemical pamphlet of the same year, King Leopold's Soliloquy , which documented many of Leopold's atrocities. Clemens's satire was published by the American Congo Reform Association, although once he learned that the United States had not ratified the 1884 Berlin Treaty that validated Leopold's rule, Clemens's interest in Congo reform dwindled. For his part, Wack claims to have taken up the pen only when the "campaign of calumny" against the Congo was extended to America. Clemens signed and dated the book on the front pastedown ("SL. Clemens, 1905") and in an autograph annotation above the frontispiece portrait, he dismissed the work as "A bucket of whitewash for the miscreant King Leopold." In 1908, the Belgian parliament, facing enormous humanitarian pressure from around the globe, took control of the colony, renaming it the Belgian Congo. Reference: Gribben 2:730 Provenance: Samuel L. Clemens (Anderson, 7 February 1911, lot 470, with auction bookplate signed by Albert Bigelow Paine) ? Sloan, 18 November 1999, lot 489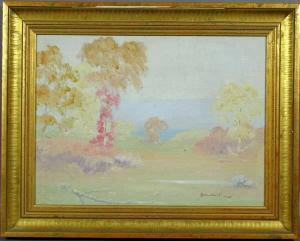 Original
Lot number:
2039
Other WORKS AT AUCTION
Description
:
Henry Wellington Wack (American, 1875-1955, California artist), Impressionistic landscape, oil on canvasboard, 11 1/2" x 15 1/2", in frame 15 1/2" x 19 1/2". Good condition; some gilt loss to frame.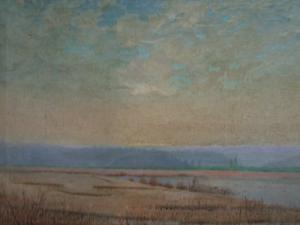 Original
Lot number:
653
Other WORKS AT AUCTION
Description
:
HENRY WELLINGTON WACK, AMERICAN (1867-1954) Landscape with clouds in sky, oil on canvas, signed lower right, framed. h: 25 1/4" x w: 30"