Alexej Von Jawlensky
Tweet
Russian Federation
(
1864
-&nbsp
1941
)&nbsp-&nbsp
Artworks
Wikipedia® - Alexej Von Jawlensky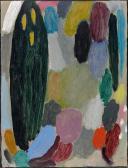 Lempertz /
Nov 28, 2014
€140,000.00 - €160,000.00
Not disclosed

Find artworks, auction results, sale prices and pictures of Alexej Von Jawlensky at auctions worldwide.
Go to the complete price list of works
Follow the artist with our email alert
Variants on Artist's name :
Jawlenski, Von Alexej
Along with Alexej Von Jawlensky, our clients also searched for the following authors:
Claude Monet
,
Lorenzo Gignous
,
Felice Casorati
,
Giovanni Lomi
,
Giuseppe Migneco
,
Emma Ciardi
,
Anders Leonard Zorn
,
Eugenio Gignous
,
Alessio Issupoff
,
Giacomo Manzu
,
Giorgio Belloni
Some works of Alexej Von Jawlensky
Extracted between 446 works in the catalog of Arcadja
LA BIOGRAFIA DI Alexej Von Jawlensky
JAWLENSKY Alexej nato a Torzhok nel 1864 e morto a Wiesbaden nel 1941.
Pittore russo, fu soprattutto attivo in Germania, si formò all'Accademia di San Pietroburgo e poi a Monaco, dove si stabilì definitivamente nel 1896.
Alla radice della sua pittura ci furono il folclore ed il misticismo del popolo russo, con la tradizione figurativa delle icone, tuttavia entrò presto in contatto con la cultura occidentale.
Fu influenzato nello stile da V.
Van Gogh, da P.
Cézanne e dai Nabis, ma più fondamentale per la sua maturazione fu H.
Matisse con la sua semplificazione delle forme e la luminosità del colore.
Nel 1909 fondò la Nuova associazione degli artisti di Monaco insieme all'amico V.
Kandinskij e fu vicino al movimento del Blaue Reiter.
Accentuò la componente mistica del suo linguaggio e concentrò il proprio interesse sul tema del volto umano, quando dovette stabilirsi in Svizzera allo scoppio della prima guerra mondiale.
Nel 1924 fondò il gruppo dei Quattro Azzurri con Kandinskij, P.
Klee e L.
Feininger.
Tra le sue opere: "Teste mistiche", "Visioni del Salvatore", "Teste astratte" e "Schokko con cappello rosso".