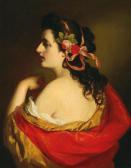 Palais Dorotheum
Apr 29, 2019
Find artworks, auction results, sale prices and pictures of Friedrich Von Amerling at auctions worldwide.
Go to the complete price list of works
Follow the artist with our email alert
Variants on Artist's name :
Amerling Von Friedrich
Along with Friedrich Von Amerling, our clients also searched for the following authors:
Antonio Possenti
,
Giorgio De Chirico
,
Alessandro Magnasco Il Lissandro
,
Pier Francesco Mola
,
Vlastimil Kosvanec
,
Filippo De Pisis
,
Umberto Boccioni
,
Mario Sironi
,
Giovanni Battista Salvi
,
Caspar Netscher
,
Mario Schifano
Some works of Friedrich Von Amerling
Extracted between 219 works in the catalog of Arcadja
LA BIOGRAFIA DI Friedrich Von Amerling
AMERLING von Friedrich Pittore austriaco (Vienna 1803 - 1887).
Entrò all'Accademia di Vienna nel 1815 e proseguì gli studi, tra il 1824 e il 1827, presso l'Accademia di Praga.
Nel 1827, migliorata la situazione economica, si trasferì a Londra, dove fu presso il pittore ritrattista T.
Lawrence, e poi a Parigi, dove si interessò alla pittura di H.
Vernet.
Viaggiò in tutta Europa e soggiornò più volte in Italia.
Rientrò a Vienna nel 1828, nel 1832 fu nominato pittore di corte e divenne uno dei ritrattisti più in voga del periodo Biedermeier viennese.
Ricchi di dettagli sono i ritratti dell'Imperatore Francesco I (1832, Vienna, Schlox Laxenburg) e di Rudolf Althaber coi suoi figli (1837, Vienna, Osterreichische Galerie).