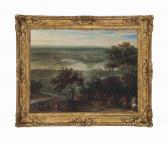 Christie's /
Mar 24, 2016
€26,522.85 - €44,204.76
€42,583.75

Find artworks, auction results, sale prices and pictures of Adam Frans Van Der Meulen at auctions worldwide.
Go to the complete price list of works
Follow the artist with our email alert
Variants on Artist's name :
Adam Frans Van Der Meulen
Some works of Adam Frans Van Der Meulen
Extracted between 203 works in the catalog of Arcadja
LA BIOGRAFIA DI Adam Frans Van Der Meulen
VAN DER MEULEN Adam Frans , nato a Bruxelles nel 1632, morto a Parigi nel 1690.
Pittore fiammingo.
Fu istruito dal pittore di corte Pieter Snayers.
Il suo primo lavoro come artista indipendente fu realizzato a Bruxelles.
Qui dipinse per un periodo opere storiche.
Quindici anni più tardi, nel 1644 si sposto a Parigi dove entrò a servizio presso la corte del re Luigi XIV.
Immortalò i successi militari del re andando nei campi di battaglia per dipingere degli schizzi che venivano poi rielaborati in studio.
Fornì inoltre numerosi disegni per arazzi.