Cy Twombly
Tweet
United States
(
Lexington
1928
-&nbsp
2011
)&nbsp-&nbsp
Artworks
Wikipedia® - Cy Twombly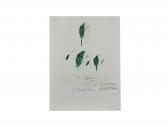 Sotheby's /
Jan 20, 2015
€4,784.73 - €6,698.63
Not Sold

Along with Cy Twombly, our clients also searched for the following authors:
Pieter Ii Brueghel
,
Andy Warhol
,
Pablo Picasso
,
Attilio Forgioli
,
Elemer Vagh-Weinmann
,
Mario Merz
,
Fortunato Depero
,
Antonio Ligabue
,
Emilio Vedova
,
Alberto Giacometti
,
Lucio Fontana
Some works of Cy Twombly
Extracted between 742 works in the catalog of Arcadja
LA BIOGRAFIA DI Cy Twombly
TWOMBLY Cy , pittore statunitense, nato in Virginia nel 1928.Dal 1948 al 1951 compie la sua formazione presso School of the Museum of Fine Arts di Boston, alla Washington and Lee University di Lexington e all'Art Students League di New York.
Nel 1952, grazie ad una borsa di studio ha la possibilità di viaggiare nel nordamerica, in Spagna, in Italia e in Francia.
Dal 1955 al 1959 lavora a New York e in Italia, decidendo infine di stabilirsi a Roma.
Sono di questi anni le sue prime sculture astratte, caratterizzate da una grande varietà di forme e materiali, e dipinte di bianco.
In Italia Twombly inizia a lavorare su grandi dimensioni, indirizzandosi verso un uso più letterale del testo e dei numeri.
L'artista giunge così a creare un proprio vocabolario di segni, talora d'allusione sessuale, da leggersi metaforicamente piuttosto che essere in relazione a una qualsiasi forma di iconografia tradizionale.Invitato ad esporre alla Biennale di Venezia nel 1964, la sua opera è per la prima volta oggetto di una retrospettiva nel 1968 presso l'Art Center di Milwaukee.
Seguono numerose altre mostre, tra le quali le importanti retrospettive presso la Kunsthaus Zürich nel 1987, il Musée National d'Art Moderne di Parigi nel 1988 e il Museum of Modern Art di New York nel 1994.
Nel 1995 apre a Houston la Cy Twombly Gallery, dove vengono esposte le opere realizzate dall'artista fin dal 1954.
Attualmente l'artista vive a Lexington e in Italia.