Joaquin Torres-Garcia
Tweet
Uruguay
(
Montevideo
1874
-&nbsp
Montevideo
1949
)&nbsp-&nbsp
Artworks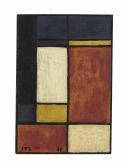 Christie's /
Nov 4, 2013
€146,337.89 - €219,506.84
€270,246.00

Find artworks, auction results, sale prices and pictures of Joaquin Torres-Garcia at auctions worldwide.
Go to the complete price list of works
Follow the artist with our email alert
Variants on Artist's name :
Torres-Garcí­a Joaquí­n
Torres-Garcia Joaquín
Along with Joaquin Torres-Garcia, our clients also searched for the following authors:
Mose Bianchi
,
Jorrit Tornquist
,
Sergio Sarri
,
Daniele Galliano
,
Leonardo Roda
,
Vittorio Cavalleri
,
Filippo De Pisis
,
Izima Kaoru
,
Zoran Antoni Music
,
Teonesto Deabate
,
Amedeo Modigliani
Some works of Joaquin Torres-Garcia
Extracted between 315 works in the catalog of Arcadja
LA BIOGRAFIA DI Joaquin Torres-Garcia
TORRES Garcia Joaquin , pittore e critico uruguaiano, nasce nel 1874 e muore nel 1949 a Montevideo.
La sua formazione artistica avvenne a Barcellona e la sua opera è caratterizzata dalla fusione di tratti avanguardistici con iconografie arcaiche della sua terra d'origine elaborando in questo modo una sorta di linguaggio scenico-astratto.
Durante il suo soggiorno a Barcellona collaborò con Gaudì per le vetrate della Sagrada Famiglia mentre a Parigi fondò il gruppo degli astrattisti e la relativa rivista.
Dopo essere ritornato in Uruguay fondò l'Associazione di arte costruttivista.