Giovanni Domenico Tiepolo
Tweet
Italy
(
1727
-&nbsp
1804
)&nbsp-&nbsp
Artworks
Wikipedia® - Giovanni Domenico Tiepolo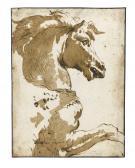 Sotheby's /
Dec 4, 2013
€18,072.29 - €24,096.38
Not Sold

Find artworks, auction results, sale prices and pictures of Giovanni Domenico Tiepolo at auctions worldwide.
Go to the complete price list of works
Follow the artist with our email alert
Variants on Artist's name :
Tiepolo Giandomenico
Along with Giovanni Domenico Tiepolo, our clients also searched for the following authors:
Francesco Guardi
,
Pompeo Mariani
,
Achille Dovera
,
Mario Schifano
,
Giacomo Francesco Cipper Il Todeschini
,
Antonio Mancini
,
Melchior De Hondecoeter
,
Giovanni Panza
,
Karl Appel
,
Amedeo Modigliani
,
Andrea Appiani
Some works of Giovanni Domenico Tiepolo
Extracted between 473 works in the catalog of Arcadja
LA BIOGRAFIA DI Giovanni Domenico Tiepolo
TIEPOLO Giandomenico , pittore italiano, nasce nel 1727 e muore nel 1804 a Venezia.
La sua prima formazione avvenne presso il padre Giambattista Tiepolo a cui rimase fedele collaboratore per tutta la vita nonostante operò anche in modo indipendente.
Seguì il padre a Wurzburg e eseguì le sovrapporte della Residenza, nel 1757 decorò a fresco la foresteria della Villa Valmarana a Vicenza, nel 1780 fu nominato presidente dell'Accademia di pittura a Venezia, nel 1783 lavorò al Palazzo Ducale a Genova e nel 1791 riprese le decorazioni di Zianigo.
Egli sviluppa una satira amarissima in cui vi sono spiriti borghesi che preludono a Goya e a Daumier.
Svolse anche una grande attività di incisore.