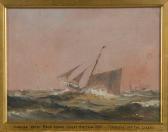 Some works of H.C. Sutton
Extracted between 1 works in the catalog of Arcadja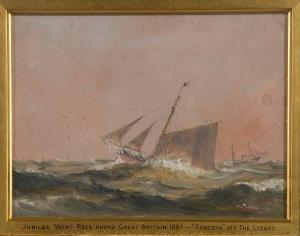 Original 1887
Lot number:
441
Other WORKS AT AUCTION
Description
:
H.C Sutton, circa 1887
'Jubilee Yacht Race round Great Britain 1887 -Genesta off the Lizard'
signed and dated 'H. C. Sutton '87', oil on canvas,
16 x 22cm (6 5/16 x 8 11/16in).
Request Condition Report
Footnote:
The cutter Genesta was designed by John Beavor-Webb and built by D.& H. Henderson & Company of Glasgow, Scotland in 1884, forowner Sir Richard Sutton of the Royal Yacht Squadron, Cowes, Isleof Wight, England. Sutton crossed the Atlantic Ocean to New York during the summer1885 aboard Genesta. Upon arrival, designer Beavor-Webb refused tolet anyone see his yacht before the America's Cup race, beginningthe tradition of secrecy that has persisted to this day. After the Cup races, Sutton and Genesta won the Brenton Reef Cup,the Cape May Challenge Cup, and, upon returning to Britain, TheJubilee yacht Race - the first Round Britain Race in 1887, coveringthe 1590-mile course in 12 days, 16 hours, and 59 minutes.