George Stubbs
Tweet
United Kingdom
(
1724
-&nbsp
1806
)&nbsp-&nbsp
Artworks
Wikipedia® - George Stubbs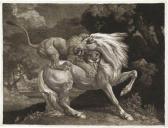 Swann Galleries /
Apr 25, 2012
€30,609.12 - €45,913.68
€52,701.12

Along with George Stubbs, our clients also searched for the following authors:
Jean-Michel Basquiat
,
Damien Hirst
,
Henri Matisse
,
Irving Penn
,
Mark Rothko
,
Mike Mitchell
,
Michelangelo Pistoletto
,
Lucio Fontana
,
Gerhard Richter
,
Jeff Koons
,
Amedeo Modigliani
Some works of George Stubbs
Extracted between 162 works in the catalog of Arcadja
LA BIOGRAFIA DI George Stubbs
STUBBS George , pittore inglese, nasce nel 1724 a Liverpool.
Iniziò la sua carriera come ritrattista ma, verso il 1750, insegnava anatomia a studenti di medicina a York.
Nel 1766, dopo numerosi studi sull'anatomia equina, pubblicò L'anatomia del cavallo, illustrato da superbe incisioni tratte dai suoi disegni.
Il libro ebbe un grande successo e lo rese celebre come pittore di cavalli che, osservati e riprodotti accuratamente, sono quasi sempre il soggetto principale delle sue opere.
Tra i suoi lavori migliori si citano Il leone che attacca un cavallo (1762 ca.
, Centro per l'Arte Britannica, Yale) e Cavallo spaventato da un leone, di cui esistono differenti versioni.