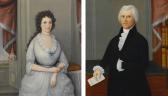 Sotheby's
Jan 20, 2017
Some works of Joseph Steward
Extracted between 3 works in the catalog of Arcadja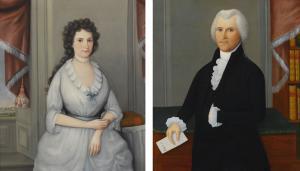 Original
Lot number:
4240
Other WORKS AT AUCTION
Description
:
Joseph Steward (1753 - 1822)

AMERICAN COL. JOHN CHESTER AND ELIZABETH HUNTINGTON CHESTER: PAIR OF PORTRAITS

Col. Chester holds a receipt and sits in front of his law library. Mrs. Huntington Chester holds a copy of Elegant Extracts, one of two similarly titled anthologies (one of poetry and one of prose) published in London in 1794 and 1796. Behind her, visible through the window, are likely the Connecticut River and the city of Hartford. oil on canvas 43 1/2 in. by 37 3/4 in. circa 1795

Provenance

Col. John Chester and Elizabeth Huntington Chester; Mary Chester Wells (1779-1836), daughter; William Henry Wells (1811-1891), son; Julia Chester Wells (1856-1924), daughter; Grace Huntington Wells Strong Brown (b. 1871), great niece; Manhattan Chapter, National Society Daughters of the American Revolution (on display in the Morris-Jumel Mansion for more than a half century).

Catalogue Note

John Chester (1749-1809) was born in Wethersfield and graduated From Yale College in 1766. He received a commission in the local militia in 1771 and the next year, began serving in the General Assembly. He was an active participant in the American Revolution, being one of the responders to the Lexington Alarm in April of 1775, although he and his men arrived after the battle. He saw action at the Siege of Boston, the Battle of Long Island, there as a colonel under General George Washington, and at Trenton and White Plains. He then retired from military service and returned to Connecticut, the law, and his wife, Elizabeth Huntington (1757-1834). He rose through the ranks of the General Assembly to Speaker of the House, and he served as a Justice of the Peace and a judge in the Hartford County Court. Chester likely met the Reverend Steward shortly after the latter\'\'\'\'\'\'\'\'s arrival in Hartford in 1796. Steward was appointed deacon of the First Church of Hartford. That same year, the self-taught portraitist was given the use of a room at the newly constructed Connecticut State House as a studio and gallery. He later added other works, as well as curiosities to his gallery.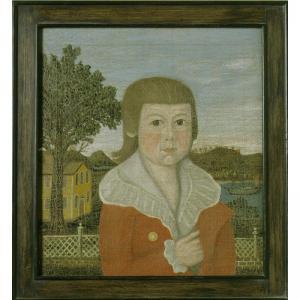 Original
Lot number:
691
Other WORKS AT AUCTION
Description
:
label marked prop of nina fletcher little, 305 warren st. brookline mass. note has mrs. little's jelly label inscribed samuel tracy coit? b. may 8, 1790 m. penelope abbot. joseph steward was born in upton, massachusetts, and graduated from dartmouth college in 1780. in 1789 he married sarah moseley of hampton, connecticut. during this period steward initiated his painting career and became an early instructor of the deaf and dumb artist john brewster, jr., whose father was hampton's foremost physician. in 1796 steward opened a painting room in the newly completed hartford museum in the \\`\\`\\`\\`east upper space chamber for portrait painting and natural curiosities''. joseph steward was one of new england's most competent provincial artists, and many of his large canvases are rich in color and detail. in addition to achieving convincing likenesses of his subjects, he introduced into the paintings furnishings typical of the period, which add greatly to one's visual impressions of late eighteenth century interiors and exteriors. provenance: vose galleries, boston, massachusetts the bertram k. and nina fletcher little collection, part ii, october 21 and 22, 1994, sale 6612, lot 712 exhibited: hartford, connecticut, the connecticut historical society, joseph steward, november 1981-january 1982, fig. 71
label marked
oil on canvas
a young boy in a red jacket, yellow house in background: a portrait of samuel tracy coit oil on canvas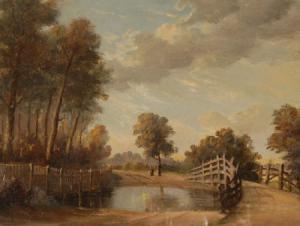 Original
Lot number:
4253155
Other WORKS AT AUCTION
Description
:
J STEWARD, 19th Century oil on panel, figures on a country lane,signed with indistinct date, 8.5 x 11.5.