Junius Brutus Stearns
Tweet
United States
(
1810
-&nbsp
1885
)&nbsp-&nbsp
Artworks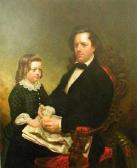 Freeman /
Jun 22, 2001
€1,172.61 - €1,758.91
€815.01

Some works of Junius Brutus Stearns
Extracted between 8 works in the catalog of Arcadja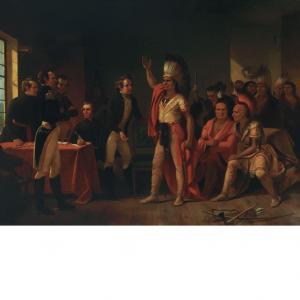 Original 1851
Lot number:
39
Other WORKS AT AUCTION
Description
:
Lot 39 Junius Brutus Stearns American, 1810-1885 The Meeting of Tecumseh and William Henry Harrison at Vincennes ( Tecumseh and Harrison ), 1851 Signed JB Stearns and dated 1851 (lr) Oil on canvas 33 7/8 x 44 inches Provenance: Mrs. Charles Bispham Levey, New York and Virginia circa 1941 By descent to Charles Bispham Levey, New York Bequest to Dudley Stoddard, NY, circa 1967 (Possibly) Thence by descent Exhibited: National Academy of Design, NY, 1851 (as Tecumseh and Harrison ), no. 406. Although identified on the nameplate as The Treaty of Vincennes, the present work depicts an important historic confrontation between two adversaries: Tecumseh, leader of the Shawnee as well as a large tribal confederacy opposed to American encroachment on Indian territory, and William Henry Harrison, then governor of the territory. The meeting took place in consequence of the 1809 signing of the Treaty of Vincennes, Indiana Territory, an agreement between the Kickapoo nation and the United States, then represented by Harrison. It is described in a contemporary account provided by John E. Wool, Inspector General of the U. S. Army, N.D.: "At the council of 1811 held with the Indians at Vincennes by General Harrison, the Chiefs of some tribes attended to complain of the purchase of some lands which had been made from the Kikapoos. The harshness of the language used by Techumseh [sic] caused it to be broken up in confusion. In the progress of the 'Long Talks' which took place Techumseh having finished one of his speeches looked around but seeing everyone seated while no seat was prepared for him a momentary frown passed over his countenance. Instantly General Harrison ordered a chair given him. An officer presented one and bowing said: 'Warrior, your Father, General Harrison offers you a seat.' Techumseh's dark eyes flashed. 'My Father (he indignantly exclaimed, extending his arm towards heaven) the Great Spirit is my Father, and the earth is my Mother; she feeds and clothes me, and I recline upon her bosom.'" Known for his history paintings, particularly a series of scenes from the life of George Washington, Junius Brutus Stearns chose to depict the dramatic moment of confrontation between a defiant Tecumseh and Harrison. While the historic meeting took place in the walnut grove at Grouseland, Harrison's home at Vincennes, Stearns instead chose to show it in the Council Chamber there, a room that Tecumseh never entered since the only reason to do so would have been to sign a treaty In 1850, Stearns exhibited a loosely painted preparatory oil, Tecumseh and General Harrison - A Study, at the National Academy of Design [oil on paper laid to board, 9 ½ x 12 ¼ inches. Collection William Henry Harrison's Grouseland; Gift of Eli Lilly, Indianapolis]. The following year, Stearns showed the larger work, The Meeting of Tecumseh and William Henry Harrison at Vincennes , at the National Academy, when it was entitled Techemseh [sic] and Harrison . The two works are closely related compositionally, but the smaller study depicts a different chair, and Tecumseh, who is positioned less centrally than in the larger oil, wears a different costume. The scene in the study is less dramatic, but the two protagonists maintain eye contact. In the larger, finished painting, Tecumseh assumes center stage, and glares defiantly at the viewer. Stearns never visited Grouseland, and never saw the Council Chamber, which has curved walls and is historically inaccurate as seen here. The likeness of Harrison, standing at left, appears to be loosely related to an 1813 Rembrandt Peale portrait of the general in his military uniform [Collection National Portrait Gallery, Smithsonian Institution]; by comparison, the likeness of Tecumseh may be a composite image since no life portrait of the Native American is known. Ironically, it was William Henry Harrison's military triumph in the Battles of Tippecanoe in 1811 and his defeat of Tecumseh in the Battle of Thames in 1813 that led to his national prominence. We are most grateful to Daniel B. Sarell, Executive Director of William Henry Harrison's Grouseland [Grouseland Foundation, Inc.], Vincennes, Indiana, for his very generous assistance in documenting the present work. C Estimate $75,000-100,000 Old wax lining. Old varnish layer. It appears that inpaint lies on top of varnish. Repaired 1/8-inch puncture at UR with attendant inpaint (approximately 1 x 1 inch). Possible area of inpaint above the head of Harrison (standing in front of table at left). Area of inpaint by floorboards at lower left, approximately 3 x 10 inches. Red paint in Native American headdresses may have been reinforced. Few small isolated additional areas of inpaint. Stretcher has been replaced. Any condition statement is given as a courtesy to a client, is only an opinion and should not be treated as a statement of fact. Doyle New York shall have no responsibility for any error or omission. The absence of a condition statement does not imply that the lot is in perfect condition or completely free from wear and tear, imperfections or the effects of aging.
Original
Lot number:
715
Other WORKS AT AUCTION
Description
:
Junius Brutus Stearns (American, 1810-1885) Lot of Two Works: Good Night and Good Morning Each faintly monogrammed l.r. or l.l., identified on presentation plaques, each with Theodore Kelley canvas stencil on the reverse, partial labels, possibly period, affixed to the reverse. Oil on canvas, each 10 x 8 in. (25.4 x 20.3 cm), framed. Condition: Minor scattered losses (predominantly at the edges), light retouch, fine craquelure, surface grime.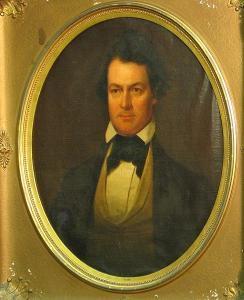 Original 1843
Lot number:
3082
Other WORKS AT AUCTION
Description
:
Junius Brutus Stearns (American, 1810-1885)
A portrait of Edwin Forrest, 1843
signed and inscribed 'Painted by J. Stearns NY July 10, 43' (upper left)
oil on canvas
33 x 26 1/2in
Additional Notes:
Provenance:
Collection of Mrs. C. William McAfee, San Francisco, California (1913)