Rebel Stanton
Tweet
Artworks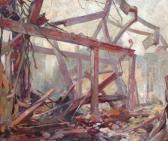 John Nicholson /
Apr 2, 2009
€273.85 - €547.71
Not disclosed

Some works of Rebel Stanton
Extracted between 3 works in the catalog of Arcadja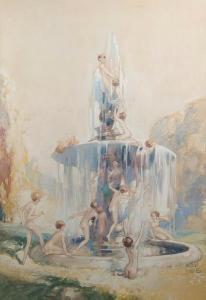 Original
Lot number:
359
Other WORKS AT AUCTION
Description
:
C Rebel Stanton (British) 'The fountains where the Naiades bedew, theirshining hair, at length drained and dried' signed 'C Rebel Stanton' (lower right) inscribed as titled verso,pencil and watercolour, Footnote: C Rebel Stanton was an illustrator, working throughout the 1920'sfor the Illustrated London News. He is also recorded as designinginterior decorative panels for the liner Queen Mary, launched in1936. The inspiration for this illustration comes from 'The Witch ofAtlas' by Percy Bysse Shelley (1792-1822). In Greek mythology, thenaiad was a fresh water nymph, whose essence was bound to herspring; if her body of water dried, she died. The nymphs depictedhere are the crinaeae, naiads specifically associated withfountains.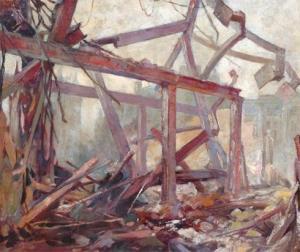 Original 1940
Lot number:
1323
Other WORKS AT AUCTION
Description
:
1323. REBEL STANTON London Blitz, 1940, Chancery Lane from Dean Street. 17th July, 1941. Oil on canvas, 20 x 25 ins. £250-500 Note: Rebel Stanton painted a picture of a nude woman at the seashore, reaching up for a beach ball for the tourist class lounge of The Queen Mary.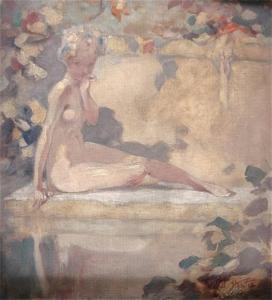 Original
Lot number:
1324
Other WORKS AT AUCTION
Description
:
1324. REBEL STANTON A nude on a bench in a garden. Signed, oil on board, 11.5x10.5 ins. £200-300