Vselvolod Sozonov
Tweet
(
1975
)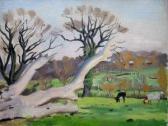 Rosebery's
Jun 14, 2011
Some works of Vselvolod Sozonov
Extracted between 3 works in the catalog of Arcadja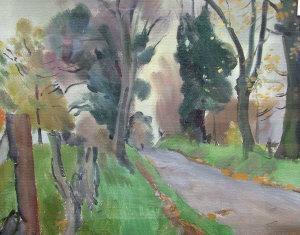 Original
Lot number:
782
Other WORKS AT AUCTION
Description
:
Vsevold Sozonov,
Russian/British exh 1924-1939-

"Suffolk CountryPath"; oil on board,

initialled,

with remains oflabel to verso of frame from 'The American British Art Center,
Inc 44 West 56th Street,

New York',
30.4x40.4cm Reference: The Dictionary of British Artists1880-1940,

p.473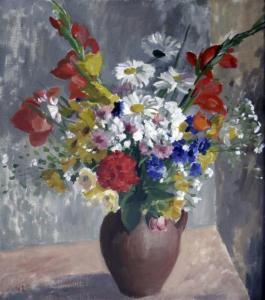 Original
Lot number:
1721
Other WORKS AT AUCTION
Description
:
Vselvolod Sozonov (d.1975)
oil on canvas
Flowers in a brown jar
initialled
24 x 20in.
Estimate £300-500
Provenance; James Connell & Sons, Glasgow.
Vselvolod Sozonov trained in Russia, but by 1924 was living andworking as a figure, still life and landscape painter in England.During the 1920''s and 1930''s he exhibited at several major Londongalleries, including Beaux Arts, Goupil, the New English Art Club,Arthur Tooth and The Redfern gallery - as well as James Connell andSons in Glasgow. He moved to the USA in 1939 - returning to Londonafter the war and exhibiting at the Royal Academy on six occasionsbetween 1951 and 1966. the artist died in 1975.
Good untouched condition, no faults noted, under glass in anornate gilt scroll frame which has suffered a little damage to oneof the corners. No labels or inscriptions verso.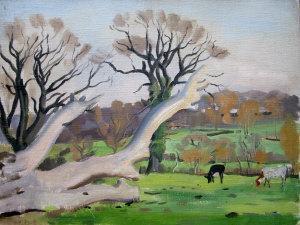 Original
Lot number:
783
Other WORKS AT AUCTION
Description
:
Vsevold Sozonov,
Russian/British exh 1924-1939-

Suffolk landscapewith cows; oil on board,

initialled,

with labelto from 'The American British Art Center,

Inc 44 West 56thStreet,

New York',

30.4x40.4cm,
(unframed)