David Smith
Tweet
United States
(
1906
- &nbsp
1965
)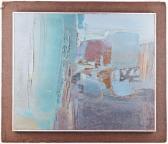 Dawson's Auctioneers
Apr 7, 2019
Some works of David Smith
Extracted between 311 works in the catalog of Arcadja
LA BIOGRAFIA DI David Smith
SMITH David , scultore statunitense, nasce a Decatur nel 1906.
Lavorò in fabbrica, assemblando parti metalliche, e studiò pittura a New York con il cubista ceco J.
Matulka.
Il suo passaggio alla scultura (1930-33) si svolse sotto il segno del surrealismo, con lavori in ferro dai forti connotati simbolici, spesso enigmatici, risultanti dal montaggio di frammenti figurativi, forme geometriche, numeri, lettere e oggetti di recupero.
Dopo lavori più calligrafici e lineari attorno al 1950, realizzò le serie degli Agricola (Agricola I, Hirshhorn Museum and Sculpture Garden, Washington, 1952 e dei Tank Totem, caratterizzate da riferimenti alla figura umana,e successivamente quelle degli Voltri-Bolton, degli Zig.
Nel 1963, ha iniziato i suoi Cubi (Cubi 1, 1963, Detroit, Inst.
of Arts), monumentali e rigorosamente geometrici, che sono considerate alcune delle più importanti opere del ventesimo secolo per la scultura americana.
David Smith è morto in un incidente automobilistico vicino a Bennington, Vermon, nel 1965.