Sarah Caroline Sitwell
Tweet
(
1770
- &nbsp
1860
)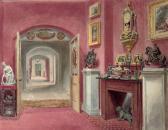 Christie's
Feb 28, 2007
Some works of Sarah Caroline Sitwell
Extracted between 2 works in the catalog of Arcadja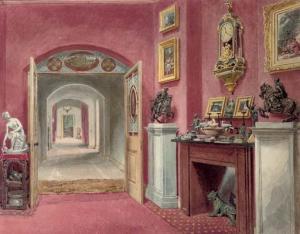 Original
Lot number:
87
Other WORKS AT AUCTION
Description
:
Lady Sarah Caroline Sitwell (fl. 1770-1860)

The Anteroom at Rempstone Hall, Nottinghamshire

pencil and watercolour

9 3/8 x 12 1/8 in. (24 x 30.8 cm.)

In a carved Gothic Revival frame
Provenance
The artist's step-daughter and by descent.

Elizabeth Cathery.
Literature
R. Byam Shaw, The World of Interiors, 'Book of Hours Past',
December 1988, pp. 146-155, illustrated.
Lot Notes
This present picture was part of a series depicting Rempstone
Hall, Nottinghamshire aggrandised in 1796 for William Gregory
Williams by the architect Samuel Stretton (d. 1811). It was
subsequently bought by John Smith Wright of the Nottingham banking
family who married Lady Caroline Sitwell in 1821. She compiled an
album of watercolours, poems and ephemera of Rempstone from which
this drawing was once part. The present watercolour reveals that
Lady Sitwell was a highly competent artist as well as an avid
collector of pictures and objects. The album was sold to Elizabeth
Catheray whose grandfather bought Rempstone in the 1920s and it
remained in the family until the late 1970s when the house was sold
to the Convent of the Holy Cross. The album was later dispersed in
the 1980s.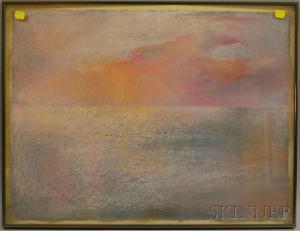 Original
Lot number:
129
Other WORKS AT AUCTION
Description
:
Lot 129

Caroline S. Hooke (American, 20th/21st Century)

Sea Light III
. Inscribed and titled on the reverse. Mixed media on handmade paper, sheet size 18 x 24 in., framed. Condition: Not examined out of frame.

Estimate $300-500