Samuel Seymour
Tweet
(
1775
- &nbsp
1832
)

Sotheby's
Jan 18, 2019
Some works of Samuel Seymour
Extracted between 3 works in the catalog of Arcadja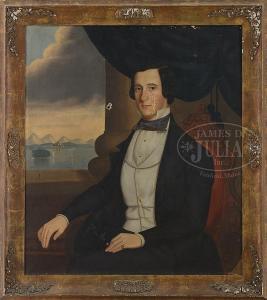 Original
Lot number:
2225
Other WORKS AT AUCTION
Description
:
Sam.el Seymour (1775 - 1823) Lot 2225: SAMUEL SEYMOUR (American, Circa 1792-1822) PORTRAIT OF A SEA CAPTAIN. Description: The large oil on canvas portrait shows a young man seated in a red upholstered carved chair with column and windowed landscape with water in background. The right corner with a curtain swag and dropped tassels. The man wears a black topcoat, white vest and blue bow tie. A gold watch chain hangs from his vest and he has a small red stone pinky ring. On his lap he has a blue cap with a gold button which probably indicates he is a ship's captain. Signed lower left "Seymour". On verso of the original canvas is a multi-line inscription which is very hard to decipher but appears to have the artist's name "Seymour". Housed in a decorative frame which has finish losses. SIZE: 39" x 34". Overall: 46-1/2" x 41-1/2". CONDITION: Puncture hole at center, some scuff losses in face, unrestored with edge chipping. 52115-8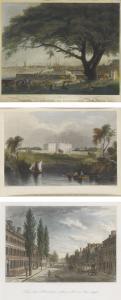 After 1801
Lot number:
400
Other WORKS AT AUCTION
Description
:
Samuel Seymour, after Thomas Birch THE CITY OF PHILADELPHIA IN THE STATE OF PENNSYLVANIA NORTH AMERICA Engraving with handcoloring, circa 1801, on laid paper, published by William Birch, Philadelphia, together withM. Marigot, High Street, Philadelphia, with an American Stage waggon., aquatint with handcoloring, circa 1807, on wove paper, published by James Cundeeand Albion Press, London, and W. Radclyffe afterW.H.Bartlett, The Presidents House, from the River, intaglio with handcoloring, 19th century, on wove paper,each framed (3 prints) image (largest): 476 by 615 mm 18 3/4 by 24 1/4 in sheet (largest): 544 by 654 mm 21 3/8 by 25 3/4 in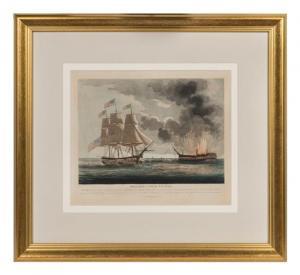 After 1812
Lot number:
690
Other WORKS AT AUCTION
Description
:
After Samuel Seymour (American, active 1797-1823) Brilliant Naval Victory, 1812 etching and aquatint with hand coloring published by J. Pierie & F. Kearney, Philadelphia Height of frame 28 x width 31 inches.