H V S Seymour
Tweet
? Century -&nbsp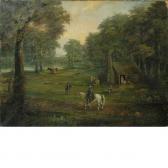 William Doyle
Oct 1, 2014
Some works of H V S Seymour
Extracted between 2 works in the catalog of Arcadja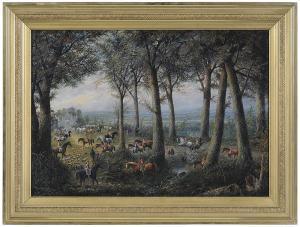 Original 1876
Lot number:
581
Other WORKS AT AUCTION
Description
:
581 H.V.S. Seymour (New York, 19th century) Early Morning Sunrise-The Meet of the Rutland Hounds, 1876, signed "painted from memory by H.V.S. Seymour.." and inscribed verso canvas, oil on canvas, 20 x 28-1/4 in.; gilt wood and composition liner, 25-5/8 x 33-3/4 in. Note: H.V.S. Seymour is mentioned in "Art", The Churchman, Vol. 46, September 30 , 1882, page 391, as an 'art connoisseur' living in Buffalo, New York. This scene depicts an English hunt, the verso of which states the composition "is from memory", having been painted in Utica in 1876.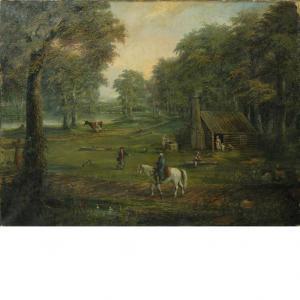 Original
Lot number:
16
Other WORKS AT AUCTION
Description
:
H. V. S. Seymour
American, 19th Century
Landscape with a Log Cabin and Figures
Signed
H. V. S. Seymour
(lr)
Oil on canvas
22 x 29 5/8 inches
Unframed
C
Frame rubbing, with corresponding surface losses, particularly in the upper right corner. Surface grime. Areas of inpaint scattered in the grass in the lower register, in the roof of the cabin and in some of the lower branches at the lower right.