Helen Moore Sewell
Tweet
(
1896
- &nbsp
1957
)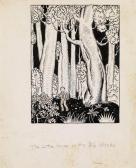 Swann Galleries
Jan 24, 2013
Some works of Helen Moore Sewell
Extracted between 3 works in the catalog of Arcadja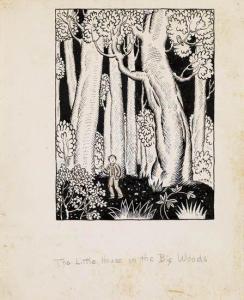 Original -
Lot number:
254
Other WORKS AT AUCTION
Description
:
HELEN SEWELL.
Two illustrations from "Little House in the Big Woods."
Pen and ink on paper. Page 39: full page illustration showing Pa Ingalls as a boy in the big woods. Image size 209x159 mm; 8 1/4 x 6 1/4 inches. * Page 150: text vignette illustration showing Cousin Charlie jumping up and down on a nest of yellow-jackets. 101x76mm; 4x3 inches on larger sheet. Both with stamp on verso reading "Please return to/Harper & Brothers/Juvenile Department."

Helen Sewell was the first to illustrate Laura Ingall's Wilder's Little House series before Garth Williams.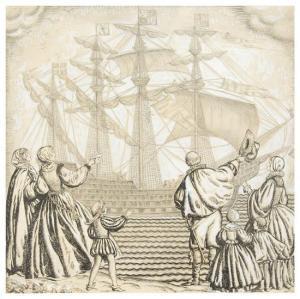 Original
Lot number:
247
Other WORKS AT AUCTION
Description
:
247. SEWELL, Helen [Moore] (1896 - 1957)

Tales of Many Lands
Pencil, ink and opaque white (330 x 245 mm). Design for a greeting card issued by Norcross Co. A copy of the printed card has been placed in a plastic sleeve affixed to the verso of the matte.
Sewell is perhaps best known as the original illustrator of Laura Ingalls Wilder\'\'s
Little House
Books. She was a prolific illustrator and a gifted picture book artist whose
The Thanksgiving Story
(1954) by Alice Dagliesh was named a Caldecott Honor Book. She also did a great deal of other commercial work including many handsome greeting cards for Norcross where she worked alongside fellow children\'\'s book illustrator Lois Lenski.
[With:] A second \"Christmas Greetings\" for Norcross, depicting a family in Elizabethan dress waving to a sailing ship. Pencil, ink and opaque white. (375 x 373 mm). (2)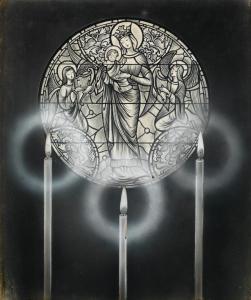 Original
Lot number:
163
Other WORKS AT AUCTION
Description
:
Sale 2423 Lot 163 HELEN SEWELL.
Group of 3 Christmas card designs for Norcross. Mixed media including watercolor, pencil, pen and ink; all in monochrome tones. Various sizes. Condition generally very good. Nd, circa 1950.