Therese Schwartze
Tweet
Follow the artist with our email alert
(
1851
-&nbsp
1918
)&nbsp-&nbsp
Artworks
Wikipedia® - Therese Schwartze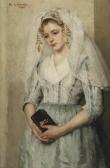 Christie's /
Jun 5, 2012
€8,000.00 - €12,000.00
€10,380.00
Find artworks, auction results, sale prices and pictures of Therese Schwartze at auctions worldwide.
Go to the complete price list of works
Variants on Artist's name :
Duyl-Schwartze Van Thérèse
Schwartze Thérèse
Some works of Therese Schwartze
Extracted between 48 works in the catalog of Arcadja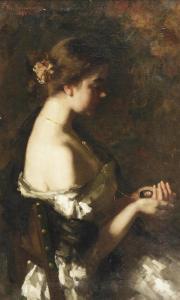 Original 1903
Lot number:
78
Other WORKS AT AUCTION
Description
:
Lot Description Thérèse Schwartze (1851-1918) Verloren; girl with a medallion signed and dated 'Th. Schwartze./1903.' (upper left); and signed again and inscribed with title (on the reverse) oil on canvas 100 x 61 cm. Painted in 1903. Lot Condition Report I confirm that I have read this Important Notice and agree to its terms. View Condition Report Provenance J. Meursing, Amsterdam. Anonymous sale, Christie's, Amsterdam, 21 April 1994, lot 314. Exhibited Amsterdam, Kunsthandel Frans Buffa & Zonen, Tentoonstelling van schilderijen en pastels door mevrouw Thérèse v. Duijl-Schwartze, February - 10 March 1907, no. 23. Tilburg, Bosscheweg, Internationale Tentoonstelling, 18 June - 18 August 1913, no. 84. Amsterdam, Stedelijk Museum, Tentoonstelling van Nederlandsche Beeldende Kunsten: 1898 Regeringsjubileum 1923, 1923, no. 95. Dresden, Sächsichen Kunstverein Dresden, year unknown, no. 1534.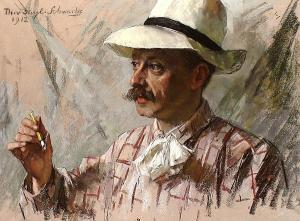 Original 1912
Lot number:
261
Other WORKS AT AUCTION
Description
:
Thérèse Schwartze (Dutch, 1851-1918)
Portrait of Dr Salomon Benjamin Druif
signed and dated 1912, pastel
55 x 73cm (21 5/8 x 28 3/4in).
Additional Notes:
Literature:-
C.Hollema and P.Kouwenhoven, Therese Schwartze (1851-1918), Een vorstelijk portrettiste, Zutphen 1998, illustrated p.93