Anthoni Schoonjans
Tweet
(
1655
-&nbsp
1726
)&nbsp-&nbsp
Artworks
Wikipedia® - Anthoni Schoonjans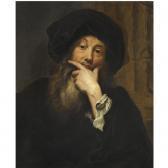 Sotheby's /
Oct 30, 2008
€10,117.62 - €15,176.42
Not Sold

Find artworks, auction results, sale prices and pictures of Anthoni Schoonjans at auctions worldwide.
Go to the complete price list of works
Follow the artist with our email alert
Variants on Artist's name :
Parrhasius (anthoni Schoonjans)
Some works of Anthoni Schoonjans
Extracted between 3 works in the catalog of Arcadja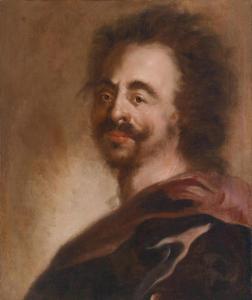 Original
Lot number:
829
Other WORKS AT AUCTION
Description
:
Anton Schoonjans (Antwerp um 1655–1726 Vienna) Pasticcio portrait of Tsar Peter the Great of Russia, oil on canvas, 60 x 51 cm, framed We are grateful to Prof Eduard Safarik, who has confirmed this painting to be the work of Schoonjans and the sitter as Peter the Great. From 1695, Schoonjans was a court painter in Vienna. During his stay in Berlin, he executed a portrait of the Prussian Crown Prince, Friedrich Wilhelm, in which he combined elements of the Classical portrait with those of genre painting, as is the case in our painting. Both pictures feature sitters with apparently overdrawn leonine manes. This is not a realistic portrait of the Tsar, but instead an individualised representation of the character traits of the sitter, that is, it is a pasticcio. Safarik compares this portrait with another one of the Tsar, who was famous throughout Europe, by Adam Manyoki (see E. A. Safarik (ed.), Johann Kupezky, Ein Meister des Barockporträts, Rome 2001). Tsar Peter, who had been married to the future Tsarina Catherine I since 1712, undertook a Grand Tour around Western Europe in 1716/17. After the victory over Sweden, he wished to establish Russia as an equal partner to the great European powers. The tour started with a spa visit to Pyrmont, and he went on to visit the courts of Berlin and Copenhagen. He then travelled to Paris via the Netherlands, where he stayed for several weeks and was received by the young King Louis XV. He returned to his capital, St. Petersburg visiting the resort, Spa in Belgium, Holland and Berlin en route.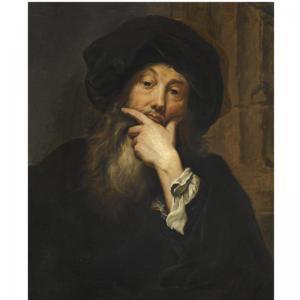 Original
Lot number:
80
Other WORKS AT AUCTION
Description
:
MEASUREMENTS measurements note 81 by 63 cm.; 31 7/8 by 24 3/4 in. DESCRIPTION oil on canvas CATALOGUE NOTE This self-portrait is known in two other versions: the first(perhaps the prime original) is in the Staatsgalerie in Schleitheim(see J. de Maere, Illustrated Dictionary of 17th Century FlemishPainters, vol. II, Brussels 1994, p. 1046, reproduced). A thirdautograph version was sold Paris, Millon & Associés, 18 March2002, lot 22, for 25,000 Euros.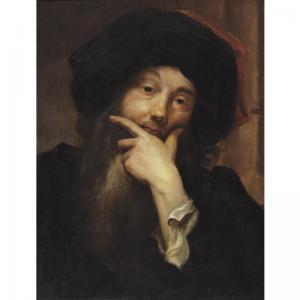 Original
Lot number:
416A
Other WORKS AT AUCTION
Description
:
ANTHOON SCHOONJANS (c.1655-1726) - SELF-PORTRAIT - PROPERTY FROM THE ESTATE OF ROSE ALLEN
Mis: 26 by 20 1/4 in.; 66 by 51.5 cm.
oil on canvas

PROVENANCE
Roland L. Taylor, Philadelphia; By whose Heirs sold ("Sold by Order of His Daughters"), New York, Parke-Bernet Galleries, Inc., April 5, 1944, lot 56 (as Follower of Sir Anthony van Dyck), there purchased by Mortimer Brandt.