Leopold Schmid
Tweet
Austria
(
1901
- &nbsp
1989
)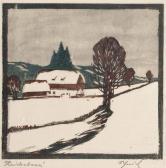 Palais Dorotheum
Oct 7, 2009
Some works of Leopold Schmid
Extracted between 3 works in the catalog of Arcadja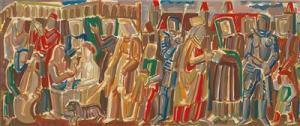 Original -
Lot number:
351
Other WORKS AT AUCTION
Description
:
Leopold Schmid *
(Vienna 1901-1989 Gutenbrunn) Frieze: Pasticcio (women, knights, bathing figures, musicians), design for the Hotel Stadt Wien on the main square in Baden, titled "Baden, Hotel Stadt Vienna, Fresko", monogrammed L. S., watercolour on paper, 29 x 69 cm, mounted, framed, (Hu)
Leopold Schmid studied with Ferdinand Andri at the Vienna Academy and created numerous decorative works related to architecture in Vienna such as wall paintings, mosaics, ceramics and und sgraffiti (Äußeres Burgtor, NÖ Land Haus, Laaerbergbad etc.) and Baden (townhall rooms, Hotel Stadt Vienna). He was a member of the Vienna Künstlerhaus.