Giorgio Schiavone
Tweet
(
Skradin
1433
- &nbsp
Sibenik
1504
)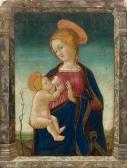 Galerie Koller
Mar 22, 2016
Find artworks, auction results, sale prices and pictures of Giorgio Schiavone at auctions worldwide.
Go to the complete price list of works
Follow the artist with our email alert
Variants on Artist's name :
Juraj Ćulinović
Some works of Giorgio Schiavone
Extracted between 3 works in the catalog of Arcadja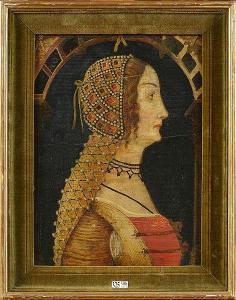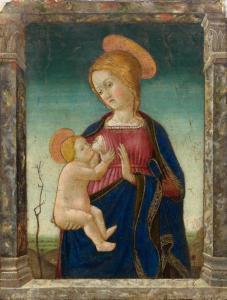 Studio 1460
Lot number:
3007
Other WORKS AT AUCTION
Description
:
SCHIAVONE, GIORGIO DI TOMASO (STUDIO)
(Scadrin c.1436 - 1504 Sebenico)
Madonna and Child. Circa 1460.
Oil on board.
41.8 x 31 cm.
---------------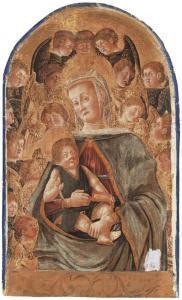 Attributed
Lot number:
106
Other WORKS AT AUCTION
Description
:
Attributed to Giorgio Schiavone (Skradin, nr. Sibenik?1433/6-1504 Sibenik)
The Madonna and Child with Angels
on gold ground panel
26 5/8 x 15 7/8 in. (67.6 x 40.3 cm.)
Provenance
William Graham (1817-1885), M.P., by 1882 ('Catalogue ofPictures, Ancient and Modern, 33 Grosvenor Crescent, 1882', no.458, valued at £40, cf. Garnett); Christie's, 9 April 1886, lot 304(26 gns. to Agnew on behalf of Graham's daughter Amelia, wife ofSir Kenneth Muir Mackenzie, Bt.). By descent to the present owner.
Literature
B. Berenson, Italian Pictures of the Renaissance, CentralItalian and North Italian Schools, London, 1968, p. 392, as 'studioof Schiavone'. O. Garnett, 'The Letters and Collection of William Graham,Pre-Raphaelite Patron and Pre-Raphaelite Collector', The WalpoleSociety, 62, 2000, p. 332, no. 289.
Exhibited
London, Matthiesen Gallery, Exhibition of Venetian Paintings andDrawings, 1939, no. 10, illustrated.
Lot Notes
William Graham's attribution of this idiosyncratic picture tothe Dalmatian master, Giorgio Schiavone, or Cùlinovic, waspresumably suggested by parallels with the signed polyptych fromthe Dennistoun and Beaucousin collections which was acquired withthe latter by the National Gallery, London in 1860. Graham, who was a major patron of Burne-Jones and Rossetti,assembled a very remarkable group of early Italian pictures. On hisdeath the collection was sold, over five days, at Christie's: asubstantial number of pictures were bought by Agnew's on behalf ofGraham's daughters. For a comprehensive study and catalogue seeGarnett, op. cit.