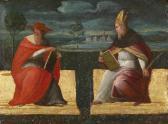 Palais Dorotheum
Jun 11, 2013
Find artworks, auction results, sale prices and pictures of Andrea Meldolla Schiavone at auctions worldwide.
Go to the complete price list of works
Follow the artist with our email alert
Variants on Artist's name :
Meldolla Andrea, Lo Schiavone
Andrea Meldolla Detto Lo Schiavone
Along with Andrea Meldolla Schiavone, our clients also searched for the following authors:
Richard Meitner
,
Carlo Maratta
,
Michele Cascella
,
Gerhard Richter
,
Rafael Senet Y Perez
,
Pablo Picasso
,
Filippo De Pisis
,
Renato Guttuso
,
Aldo Gentilini
,
Alexander Nikolaiev. Benois
,
Ottone Rosai
Some works of Andrea Meldolla Schiavone
Extracted between 101 works in the catalog of Arcadja
LA BIOGRAFIA DI Andrea Meldolla Schiavone
ANDREA Schiavone A.
Meldolla detto Pittore e incisore italiano (Zara 1518 ca.
- Venezia 1563).
Figlio di un militare al servizio della Repubblica di Venezia, si formò in ambiente tizianesco, ma presto recepì i modelli stilistici introdotti dal Salviati e dalle incisioni del Parmigianino.
Viene ricordato come pittore di cassoni e decoratore di facciate di palazzi veneziani andati perduti, a Venezia restano alcuni suoi dipinti, tra cui un'Annunciazione, una Adorazione dei pastori e un'Adorazione dei Magi realizzati per la cantoria di S.
Maria del Carmine.
Ci restano inoltre tre tondi per il soffitto della Biblioteca Marciana, realizzati nel 1556, mentre altre opere sono conservate in importanti musei europei: tra questi una Pietà che si trova presso la Pinacoteca di Dresda e il Giudizio di Mida conservato a Hampton Court (Londra).
Pur rimanendo influenzato dalla pittura veneta cinquecentesca, accolse nella sua produzione anche elementi estrapolati dal Parmigianino, che secondo alcuni fu suo maestro.