Hans Albert Simon Schaefer
Tweet
(
1907
- &nbsp
1993
)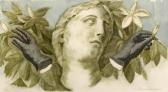 Some works of Hans Albert Simon Schaefer
Extracted between 1 works in the catalog of Arcadja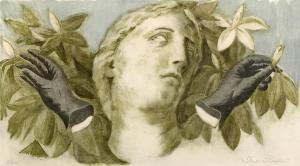 Original -
Lot number:
491
Other WORKS AT AUCTION
Description
:
Lot-Nr. 491

Hans Albert Simon-Schaefer

(1907 Gravenstein/Gråsten - 1993 Düsseldorf)
Surrealistische Komposition mit antikem Marmorkopf, Handschuhen und Blütenzweigen
Farblithographie/Papier. Sign. u. nummeriert 8/200. Darstellung 33 cm x 60 cm. Rahmen. (160058)
Surrealistic composition with an antique marble head, gloves and branches of blossoms. Lithograph in colours on paper. Signed an numbered 8/200.