Raffaello Sanzio
Tweet
Follow the artist with our email alert
(
1483
-&nbsp
1520
)&nbsp-&nbsp
Artworks
Wikipedia® - Raffaello Sanzio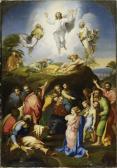 Van Ham /
May 13, 2011
€1,500.00 - €2,000.00
Not Sold
Find artworks, auction results, sale prices and pictures of Raffaello Sanzio at auctions worldwide.
Go to the complete price list of works
Variants on Artist's name :
Sanzio Raffaello
Raphaël
Raffaello Sanzio Called Raphael
Along with Raffaello Sanzio, our clients also searched for the following authors:
Ilario Mercanti Spolverini
,
Giovanni Segantini
,
Alessandro Tiarini
,
Annibale Carracci
,
Gerard I Hoet
,
Lodovico Carracci
,
Johan Karl, Carlo Loth
,
Leonello Spada
,
Domenico Zampieri Il Domenichino
,
Luca Giordano
,
Simone Cantarini Il Pesarese
Some works of Raffaello Sanzio
Extracted between 774 works in the catalog of Arcadja
LA BIOGRAFIA DI Raffaello Sanzio
RAFFAELLO Sanzio nato a Urbino nel 1483 e morto a Roma nel 1520.
Pittore e architetto italiano, fu incoraggiato dal padre Giovanni Santi anch'egli pittore, a studiare le opere di Piero della Francesca, cominciò così ad appassionarsi all'arte ed a studiare il disegno e la prospettiva.
Il padre accortosi del suo talento, lo mandò a studiare nella bottega di uno dei migliori maestri il Perugino.
Nel 1506 si spostò a Firenze ed entrò in contatto con i massimi esponenti della cultura locale, Leonardo e Michelangelo, infatti fin da subito nelle sue opere si vide l'influenza leonardesca.
Nel 1508 la sua fama giunse fino a Roma, tanto che Papa Giulio II gli affidò l'incarico di decorare le stanze Vaticane.
Sotto il pontificato di Leone X fu nominato architetto della fabbrica di San Pietro; oltre a continuare a dipingere per il Papa eseguì anche opere per i nobili della corte.
La sua conoscenza per l'arte classica spinse il Papa a nominarlo conservatore delle antichità e ad affidargli l'incarico di realizzare una pianta di Roma antica, molte sue opere sono ispirate a modelli romani.