Anwar Saeed
Tweet
(
1955
)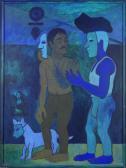 Bonhams
Jun 7, 2012
Some works of Anwar Saeed
Extracted between 3 works in the catalog of Arcadja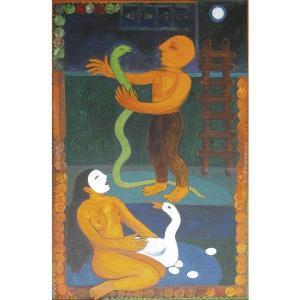 Original 1996
Lot number:
66
Other WORKS AT AUCTION
Description
:
LOT 66
PROPERTY FROM A PRIVATE COLLECTION
ANWAR SAEED
(B.1955)
RISKY GAMES
15,000—20,000 USD
measurements
36 by 24 in. (91.4 by 61 cm.)
Description
Signed 'Anwar Saeed, 1996' lower left and inscribed 'Risky Games1996/ "Life is elsewhere"/ Anwar Saeed/ 96' on reverse
Acrylic and collage on board
PROVENANCE
Acquired directly from the artist in 1996 Private Austrian Collection Purchased by the current owners from ArtChowk, Karachi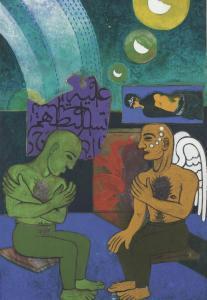 Original 2003
Lot number:
55
Other WORKS AT AUCTION
Description
:
ANWAR SAEED (B. 1955)
TENDER BURDENS - I
signed and dated 'Anwar Saeed 2003' (lower left)
acrylic, collage, charcoal on paper
19 7/8 x 13¾ in. (50.5 x 34.9 cm.)
Executed in 2003
Pre-Lot Text
PROPERTY OF A GENTLEMAN
Provenance
Acquired from Chawkandi Gallery, Karachi
Lot Notes
Regarded as one of the most profound modern day painters of Pakistan, Anwar Saeed comes from a generation of Pakistani artists whose student years were marked by the oppressive elements of the 1980s military regime. Since then, he has emerged as a painter and print maker, whose imagery evolves from complex cross-cultural sources. Christian motifs combine with Hindu, Buddhist, Greek mythologies to form a personalised language that is at once poetic and compelling. (S. Hashmi, 'The Eye Still Seeks,' Memory Metaphor Mutations: Contemporary Art of India and Pakistan, Oxford University Press, New Delhi, 2007, p. 26)
As seen in the present lot, Saeed often works with collage, enjoying
accidental cross-references and and strange contiguities. He paints over these textured surfaces in vibrant color, picking out images which can be woven into sexually ambivalent chronicles. On his work and symbols, Saeed states "I am interested in working with texture. The surface is very important for me. I try to build it up in layers of collage and the image develops from layer to layer. I use elements like animals, human form and other objects in relation to each other...the symbols I employ are about what is, not what should be, hence the winged figure is the realisation that the aleniation is the fate of the individual and the space enclosed in the work is an alternative of an inner space, not merely a passive reconstruction of the scene." (in correspondence with the artist)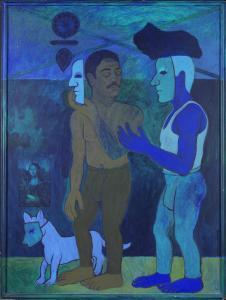 Original
Lot number:
63
Other WORKS AT AUCTION
Description
:
Anwar Saeed (Pakistan, born 1955)
Untitled

, oil on canvas, signed and dated '05 lower right, gallery label and inscribed

Mudassar Ahmed/PRIMEX/56.Z.5.Block 6/PECHS, Karachi/ph.4544798

on reverse, framed,

121.9 x 91.4cm (48 x 36in).

Private UK Collection.