Kanshoken Ryugetsu
Tweet
(
1700
- &nbsp
1800
)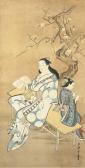 Some works of Kanshoken Ryugetsu
Extracted between 1 works in the catalog of Arcadja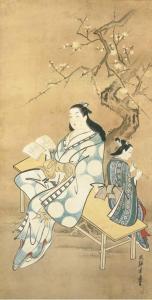 Original
Lot number:
284
Other WORKS AT AUCTION
Description
:
Kanshoken Ryugetsu (Early 18th Century)
Courtesan and flute player
Signed Kanshoken Ryugetsu, sealed Kanshoken and another seal
Hanging scroll; ink, color and gold on paper
38 5/8 x 19¾in. (98 x 50.2cm.)
Lot Notes
On a chilly day in early spring a courtesan seated beneath a flowering plum is distracted from her reading by the music of the young flute-player seated with his back to her. The setting may be the garden of a brothel in the Yoshiwara. Nothing is known of Ryugetsu, although stylistically and from his signature we can surmise that he was a follower or contemporary of Matsuno Chikanobu (active 1711-16) and Baiyuken Katsunobu (active 1711-36). Once thought of as followers of the Kaigetsudo school, these artists are now considered to have been rivals who evolved their own styles.