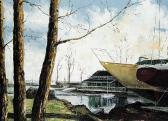 Levis /
Apr 18, 2010
€184.27 - €257.98
Not Sold

Some works of Paul Rupert
Extracted between 3 works in the catalog of Arcadja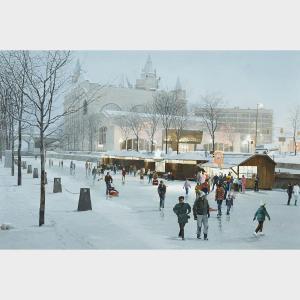 Original
Lot number:
293
Other WORKS AT AUCTION
Description
:
Lot 293 PAUL RUPERT (1946 - 2013), R.C.A. OTTAWA CARNIVAL OIL ON CANVAS; SIGNED AND DATED 92 24" x 36" — 61 x 91.4 cm. Provenance: The Art Winds Gallery Ltd., Montreal, QC Note: PAUL RUPERT (1946 -2013), R.C.A. Paul Rupert was born in 1946 in Ottawa, Ontario and obtained his formal art training at the School of Art and Design of The Montreal Museum of Fine Arts, where he studied under the late Arthur Lismer (Group of Seven) and at Concordia University. Ruperts''s works are part of private and public collections worldwide, including the Canadian Embassy Collection in Washington, D.C., and the National Gallery in Ottawa. He gained much acclaim for his portraits and golf landscapes, and was commissioned to paint some of North America''s best known golf courses, including the Shaughnessy Golf Club in Vancouver, Nicklaus North, and The Country Club at Brookline. Rupert passed away Montreal, Quebec in 2013. Selected Corporate, Private and Public Collections Bank of Montreal Bombardier Canada House, London, England Canadian Airlines Canadian Embassy Collection, Washington, DC Claridge Collection, Montreal, QC Government of Alberta Government of Ontario International Bankers Club, Hong Kong ITT Kraft General Foods Mitsui Canada and Japan Molson Breweries Montreal Stock Exchange National Gallery, Ottawa, ON Ontario House, London, England Pointe Claire Curling Club, QC Royal Bank of Canada Collection Selected Links paulrupert.com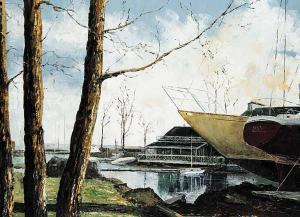 Original 1972
Lot number:
767.1
Other WORKS AT AUCTION
Description
:
LOT #767.1 Artist: PAUL RUPERT ~ Title: Untitled - Pointe Claire Yacht Club Media: oil on canvas 18 x 24 in. / 46 x 61 cm. Dated: 1972 Notes: signed and dated lower right; framed Reference: biography of artist attached verso Provenance: private collection, Calgary ESTIMATE: $250/350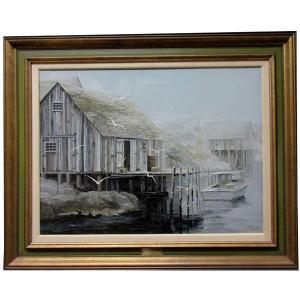 Original
Lot number:
86
Other WORKS AT AUCTION
Description
:
PAUL RUPERT (CANADIAN, 1946-) SEA-BIRD INLET OIL ON CANVAS; SIGNED AND DATED '74 LOWER RIGHT; TITLED TO FRONT PLAQUE AND VERSO 18" x 24" — 45.7 x 61 cm.