Hermann Rudisuhli
Tweet
Switzerland
(
1875
- &nbsp
1938
)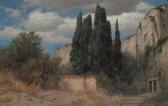 Bonhams
May 23, 2006
Some works of Hermann Rudisuhli
Extracted between 3 works in the catalog of Arcadja
Original
Lot number:
797
Other WORKS AT AUCTION
Description
:
February 20-21, 2010
Lot 0797
Herman Rudisuhli painting
(Switzerland, 1864-1944), "Autumn Landscape/HermanRudisuhli/Austria's Greatest Painter/Painted 192… (or 3…)", signedlower left "Herm. Rudisuhli", oil on artist board, 9-1/4 x 11-1/8in.; carved gilt wood frame.
Wear to paint at peaks of texture, crackle, cleavage; frame withabrasions.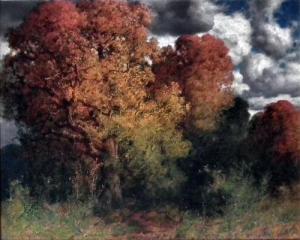 Original 1904
Lot number:
177
Other WORKS AT AUCTION
Description
:
Hermann Rudisuhli-Munchen (late 19th/early 20th Century Swiss) -

Oil painting -

Autumn trees, board, 23ins x 30ins, signed and dated 1904, in white painted frame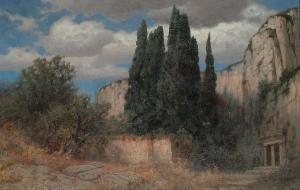 Original
Lot number:
58
Other WORKS AT AUCTION
Description
:
Landscape with classical entrance built into the cliffs.
Signed, oil on board,
73.5 x 50.5cm (29 x 19 3/4in)