Peter Paul Rubens
Tweet
Germany
(
Siegen
1577
-&nbsp
Antwerp
1640
)&nbsp-&nbsp
Artworks
Wikipedia® - Peter Paul Rubens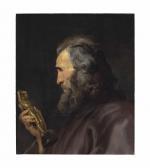 Christie's /
Jul 2, 2013
€1,751,926.87 - €2,919,878.12
€2,030,329.50

Find artworks, auction results, sale prices and pictures of Peter Paul Rubens at auctions worldwide.
Go to the complete price list of works
Follow the artist with our email alert
Variants on Artist's name :
Sir Peter Paul Rubens
Rubens
Rubens Petr Pavel
Along with Peter Paul Rubens, our clients also searched for the following authors:
Pier Francesco Cittadini Il Milanese
,
Tito Pellicciotti
,
Giacomo Francesco Cipper Il Todeschini
,
Joseph Vernet
,
Giuseppe Magni
,
Giuseppe Migneco
,
Giacomo Manzu
,
Felice Casorati
,
Francesco Ciccio Solimena
,
Giovanni Lomi
,
Claude Monet
Some works of Peter Paul Rubens
Extracted between 1,564 works in the catalog of Arcadja
LA BIOGRAFIA DI Peter Paul Rubens
RUBENS Pieter Paul nato a Siegen nel 1577 e morto ad Anversa nel 1640.
Pittore fiammingo, si formò prima a Colonia poi ad Anversa, dove fu allievo di A.
van Noort e di O.
van Veen, dopodiché soggiornò per diversi anni in Italia, dapprima a Venezia, dove subì l'influenza di Tiziano, del Veronese e del Tintoretto.
Poco dopo fu chiamato al servizio di Vincenzo Gonzaga, duca di Mantova e dovette alternare la sua attività artistica con missioni diplomatiche e politiche, con questi viaggi ebbe modo di studiare le opere dei maestri del rinascimento, ma fu anche attratto da lavori più recenti, come quelli dei Carracci e di Caravaggio.
Tornato in patria riuscì a fondare la sua famosa casabottega, nella quale creò con l'aiuto di molti artisti tra cui A.
van Dyck un gran numero di opere.
Tra i suoi lavori: "Ritratto di Brigida Spinola Doria", "Esaltazione della Croce", "Gesù coronato di spine", "Innalzamento della Croce", "Trittico di sant'Ildefonso" e "Paesaggio autunnale col castello di Steen".