Louis François Roubillac
Tweet
Follow the artist with our email alert
(
1702
-&nbsp
1762
)&nbsp-&nbsp
Artworks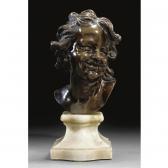 Sotheby's /
Dec 8, 2006
€7,378.98 - €10,330.58
€19,523.74
Some works of Louis François Roubillac
Extracted between 2 works in the catalog of Arcadja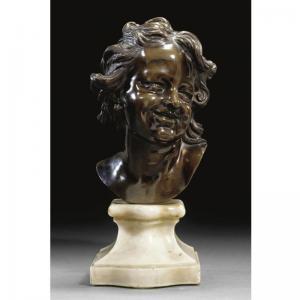 Original
Lot number:
132
Other WORKS AT AUCTION
Description
:
ENGLISH, CIRCA 1750 (1702/05-1762) - A BRONZE HEAD OF A LAUGHING CHILD -
Mis: socle: 9.5cm.., 3¾
mounted on waisted marble socle with bronze supports

CATALOGUE NOTE
Ever since Bellamy Gardner's 1938 article in which he published the Chelsea factory porcelain bust of the Laughing child now in the Ashmolean Museum as a work modelled by Louis-François Roubiliac, scholars have questioned whether the attribution is tenable. While Esdaile accepted it, both Penny and Baker refrained from linking it to him securely - but kept him as a prominent candidate based on circumstantial evidence. Whoever the author - and even Flaxman's name has been raised - the head is clearly based on 17th century Baroque prototypes and in particular Bernini (who Roubiliac greatly admired) and Duquesnoy.. . Unusual for its small scale in the context of English 18th century bronze work, the model is sometimes found paired with the bust of a crying child. If intended as pendants, together they may reveal their original identification as the young Heraclitus and Democritus, the cheerful (i.e. laughing) and gloomy (i.e. crying) Greek philosphers. However the Laughing Child model was evidently more popular and largely reproduced independently: a marble version of the Laughing Child by Nollekens, without pendant, is in the Hermitage.. . The present cast probably retains its original base and is set apart from other casts by its high-quality facture and exceptional patina. A dating even earlier than 1750 is quite plausible.. . RELATED LITERATURE. Penny (1992), no.457; Baker, pp.90-93, pls.69-70 and note 35, pp.174-75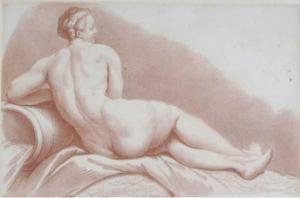 After 1730
Lot number:
95
Other WORKS AT AUCTION
Description
:
Louis-Francois Roubiliac (1702-1762), After Edme Gratien Parizeau (b. 1783) A reclining nude seen from behind: Two Plates two lithographs, circa 1730, on wove papers, published in Paris, both presumably with margins, both with pale light-staining, minor surface soiling, pale scattered foxing, otherwise both apparently in good condition, not examined out of the frames both L. approx. 9½ x 14¼ in. (242 x 362 mm.) both overall 19 x 23¾ in. (483 x 604 mm.) (2) Special Notice This lot is offered without reserve.