Ottone Rosai
Tweet
Italy
(
Firenze
1895
- &nbsp
Ivrea
1957
)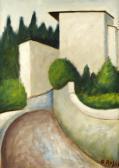 Bonhams /
May 6, 2014
€17,927.57 - €25,098.60
Not Sold

Along with Ottone Rosai, our clients also searched for the following authors:
Andrea I Scacciati
,
Antonin Prochazka
,
Willem J. Oppenoorth
,
Dario Mecatti
,
Giuseppe Laezza
,
Ennio Pozzi
,
Gianni Vagnetti
,
Umberto Boccioni
,
Alberto Caligiani
,
Giacomo Manzu
,
Remigius Adrianus Van Haanen
Some works of Ottone Rosai
Extracted between 902 works in the catalog of Arcadja
LA BIOGRAFIA DI Ottone Rosai
ROSAI Ottone nato a Firenze nel 1895 e morto ad Ivrea (Torino) nel 1957.
Pittore italiano, si formò all'Accademia di Firenze e studiò sulle opere di J.
-B.
-C.
Corot, G.
Courbet, P.
Cezanne e H.
Daumier.
Si accostò tramite A.
Soffici per un breve periodo al futurismo e nel primo dopoguerra il suo linguaggio apparve già compiutamente definito.
Tra le sue opere: "Il banco del falegname", "Strada toscana", "L'orchestra del caffè Paskowsky", "I preti" e "La Badiacca".