Romagni
Tweet
? Century -&nbsp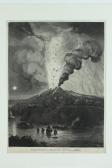 Some works of Romagni
Extracted between 1 works in the catalog of Arcadja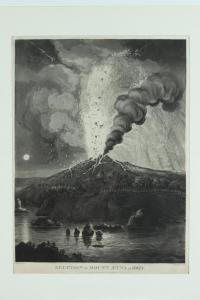 After
Lot number:
476
Other WORKS AT AUCTION
Description
:
EARLY 19TH CENTURY ENGRAVING OF AN ERUPTING VOLCANO, MOUNT ETNA IN SICILY, AFTER ROMAGNI, After Romagni, Published by Dr. Robert John Thornton in 1809. Matted, of the period engraving depicting the night-time eruption of Mount Etna, in Sicily in 1669 (#49672.1), measuring 23" high x 17" wide. ''Etna''s most destructive eruption since 122 BC started on 11 March 1669 and produced lava flows that destroyed at least 10 villages on its southern flank before reaching the city walls of the town of Catania five weeks later, on 15 April. The lava was largely diverted by these walls into the sea to the south of the city, filling the harbour of Catania. A small portion of lava eventually broke through a fragile section of the city walls on the western side of Catania and destroyed a few buildings before stopping in the rear of the Benedictine monastery, without reaching the centre of the town. Contrary to widespread reports of up to 15,000 human fatalities caused by the lava. Mount Etna is one of the most active volcanoes in the world. The fertile volcanic soils support extensive agriculture, with vineyards and orchards spread across the lower slopes of the mountain and the broad Plain of Catania to the south. Due to its history of recent activity and nearby population, Mount Etna has been designated a Decade Volcano by the United Nations. In June 2013, it was added to the list of UNESCO World Heritage Sites.''

Minor toning, old 1/4" repair to bottom edge of sheet, not extending into the image.

Provenance: The Old Print Gallery, Washington, DC.