Joannie Rochette
Tweet
? Century -&nbsp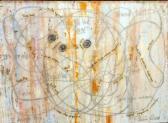 Some works of Joannie Rochette
Extracted between 1 works in the catalog of Arcadja
Original 2010
Lot number:
87
Other WORKS AT AUCTION
Description
:
Rochette, Joannie (In collaboration with Jane Roos)
2010 OLYMPIC LONG PROGRAM
An acrylic on canvas of Joannie Rochette's Vancouver figure skating long program routine from the 2010 Olympic Winter Games, illustrated in silver against a coloured background. Joannie outlined her Vancouver long program routine 4:10, on the canvas, along with the words to her sequences, such as ;triple-toe, triple salchow.' She skated to 'Samson and Delilah' to win Olympic bronze on February 25, 2010. Signed bottom right corner. Framed.
Joannie Rochette captured the hearts of an entire nation when she stepped on to the ice for her short program skate at the Vancouver Games only two days after losing her mother. She courageously skated to a new personal best score of 71.36 for her short program, which placed her in third heading into the long program. After another strong performance, Joannie would hold on to her third place position after the long program to win Olympic bronze. She became only the fifth Canadian to win a medal in ladies figure skating at an Olympic Games and the first in 22 years to reach the Olympic podium. She was awarded the inaugural 2010 Terry Fox Award for her inspiring performance at the Vancouver Games and was chosen as Canada's flag bearer for the Closing Ceremonies. Joannie is also a six-time (2005-2010) Canadian national champion, 2004 Grand Prix Final bronze medalist and 2009 World Silver medalist. She is currently touring with Stars on Ice Canada.
30" x 22" — 76.2 x 55.9 cm.