Thomas Robinson
Tweet
( -&nbsp
1810
)&nbsp-&nbsp
Artworks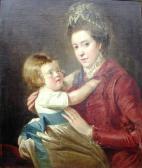 Lots Road Auctions /
Sep 9, 2007
€885.87 - €1,181.16
Not disclosed

Some works of Thomas Robinson
Extracted between 3 works in the catalog of Arcadja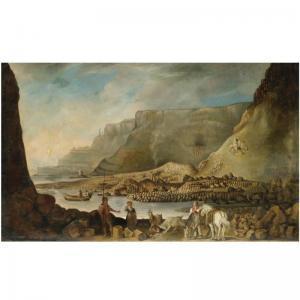 Original
Lot number:
109
Other WORKS AT AUCTION
Description
:
95.5 by 158 cm., 37½ by 62¼ in. signed l.l.: T. Robinson Pix. oil on canvas Possibly Dublin, Society of Artists, 1809 Giant's Causeway is a remarkable geological site located on thenorth-east coast of Northern Ireland, just north of Bushmills. Itconsists of a large number of basalt columns resulting from theeruption of a volcano. The top of the columns form stepping stoneswhich lead from the cliff and disappear into the sea. The largestcolumns are thirty-six feet high. The causeway was formed as aresult of volcanic activity, but early legends link it to Fionn macCumhaill, an Irish giant who is said to have built it so that hecould walk to Scotland to fight Benandonner, but fell asleep beforereaching Scotland. The causeway was rediscovered in the lateseventeenth century when Sir Richard Bulkeley presented a paper tothe Royal Society and in 1739 the Irish artist Susannah Druryproduced a watercolour of it which was engraved and widelydisseminated. Thomas Robinson was a pupil of George Romney who settled inDublin in about 1790. He later lived in Lisburn in County Antrimwith his family, and then moved to Belfast for seven years between1801 and 1808 before settling back in Dublin where he died. In 1809he was appointed President of the Society of Artists where heexhibited a picture of Giants Causeway which was subsequentlydesposed of in a raffle.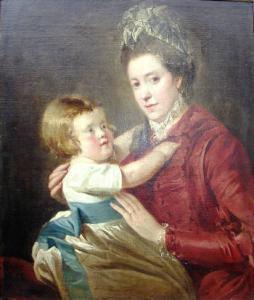 Attributed 1810
Lot number:
350
Other WORKS AT AUCTION
Description
:
ATTRIBUTED TO THOMAS ROBINSON (? - 1810), 'Mrs Mountray of Favour Royal, Co. Tyrone, with a Child', oil on canvas, 75cm x 61cm, framed.
Original
Lot number:
289
Other WORKS AT AUCTION
Description
:
Thomas Robinson Robinson, Thomas Plowing oil on canvas 38X60in.