Augustin Christian Ritt
Tweet
(
1765
-&nbsp
1799
)&nbsp-&nbsp
Artworks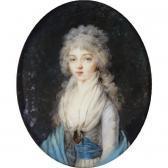 Sotheby's /
Nov 28, 2006
€59,149.74 - €88,724.61
Not Sold

Find artworks, auction results, sale prices and pictures of Augustin Christian Ritt at auctions worldwide.
Go to the complete price list of works
Follow the artist with our email alert
Variants on Artist's name :
Ritt Augustin
Some works of Augustin Christian Ritt
Extracted between 3 works in the catalog of Arcadja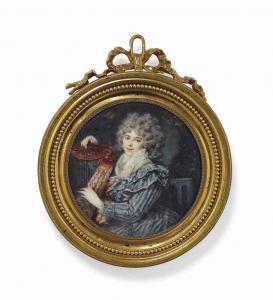 Original
Lot number:
4
Other WORKS AT AUCTION
Description
:
AUGUSTIN-CHRISTIAN RITT (ST PETERSBOURG 1765-1799) Portrait de la princesse Natalia Iwanowna Kourakine, née Golowina (1766-1831) en robe bleue à rayures blanches, tenant une harpe, sur une chaise, devant un fond boisé signée 'Ritt.' sur le dossier de la chaise aquarelle et gouache sur ivoire 8,2 cm. (3¼ in.) diam., dans une monture en cuivre doré, dans un cadre en bronze doré surmonté d'un noeud de ruban Prospective purchasers are advised that several countries prohibit the importation of property containing materials from endangered species, including but not limited to coral, ivory and tortoiseshell. Accordingly, prospective purchasers should familiarize themselves with relevant customs regulations prior to bidding if they intend to import this lot into another country. Prince B. A. Kourakine, à Kourakino (gouvernement d'Orel), en 1905. A. N. Benois, "Istoritseskïaa vystavka predmetov iskusstva v Peterburge", Mir iskusstva, 1904, t. 12, no. 4, p. 74. Grand-Duc Nicholas Mikhaïlovich Romanow, Russkie portrety [...], St Petersbourg, 1905-1909, I, no. 147. A. A. Karew, The Miniature Portrait in Russia in the 18th century, Moscou, 1989, p. 249, illustrée fig. 64. G. N. Komelowa, Avgustin Ritt - Russkiy Miniatyurist 1765-1799, St Petersbourg, 2004, p. 161, no. 108, illustrée p. 93, fig. 35 et répertoriée dans le carnet de comptes de l'artiste (p. 192, no. 43) pour 1792: 'la Princesse Kourakin jouant de la harpe'. St Petersbourg, 1904, Exposition Historique d'objets d'art. For an english translation please visit www.christies.com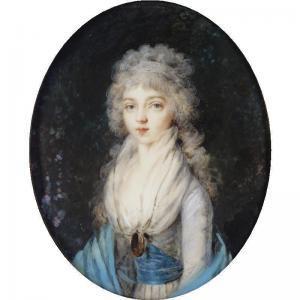 Original
Lot number:
5
Other WORKS AT AUCTION
Description
:
DESCRIPTION signed in Latin l.l. gouache and watercolour on ivory PROVENANCE Collection of Countess Festetics, Hungary, 1910s; Collection of Leo R. Schidlof, Vienna EXHIBITED Brussels, L'Exposition de la Miniature à Bruxelles , March-June 1912, Cat.No. 1050a Geneva , Chefs-d'oeuvre de la miniature et de la gouache , Musée d'Art et d'Histoire, 1956, Cat.No.375 Vienna, Meisterwerke der europäischen Miniaturmalerei von 1750-1850 , Albertina,1965, Cat.No. 318 LITERATURE AND REFERENCES State Archive of the Russian Federation, File 20, document 20, sheet 3; L'exposition de la Miniature à Bruxelles , G.Van Oest &C ie , Brussels, 1913, illustrated plate XLVI; L.R.Schidlof, The Miniature in Europe, Akademische Druck und Verklagsanstalt, Graz, 1964, volume 1, page 679; G.N.Komelova, Avgustin Ritt: Russkii miniaturist 1765-1799, Zhizn' i tvorchestvo , St. Petersburg: Slavia, 2004, p.159, No. 98 CATALOGUE NOTE Augustin Ritt is considered one of Russia?s best miniature portrait painters and the offered lot is perhaps the finest to have appeared at auction in recent years. Ritt initially studied in St. Petersburg at the Academy of Arts, before moving to Antwerp and Paris. Upon his return to Russia in 1792, he became miniaturist to the Imperial Court and was elected to the post of Academician. The offered lot depicts Princess Louisa-Maria-Augusta of Baden, who later became Grand Duchess Elizaveta Alexeevna and married the future Tsar Alexander I. Her exceptional beauty and charming personality captivated not only the Tsar. The Grand Duchess became one of Ritt?s favourite sitters and he painted eighteen portraits of her, three of which were completed within the first few months of her arrival in Russia.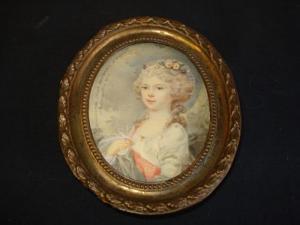 After
Lot number:
2
Other WORKS AT AUCTION
Description
:
After Augustin Ritt Portrait of a young woman with flowers in her hair and wearing a red sash. Oval, 35mm ( 1 3/8in) high