Reginald Riley
Tweet
XIX-XX Century -&nbsp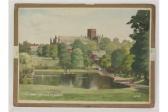 Some works of Reginald Riley
Extracted between 1 works in the catalog of Arcadja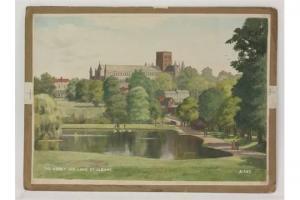 Original 1944
Lot number:
180
Other WORKS AT AUCTION
Description
:
*Reginald Riley (19th/20th century)

OLD MONASTERY GATE AND GARDEN, ST. ALBANS. A1341;

THE ABBEY AND LAKE, ST. ALBANS. A1343;

ST PETER'S CHURCH AND WAR MEMORIAL, ST. ALBANS. A1344;

TOWN HALL AND MARKET PLACE, ST. ALBANS. A1345.

Four, each inscribed and dated 1944 verso, watercolour and bodycolour

25 x 36cm (4)

These were original illustrations for postcards published by Valentine & Sons Ltd., Dundee and London. Others from this series are in the St. Albans Museum.