Samuel Rickards
Tweet
(
1735
- &nbsp
1823
)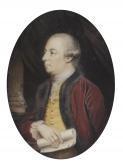 Some works of Samuel Rickards
Extracted between 1 works in the catalog of Arcadja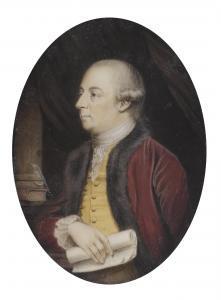 Original 1775
Lot number:
59
Other WORKS AT AUCTION
Description
:
Samuel Rickards (circa 1735-1823)

Thomas Pennant (1726-1798), wearing crimson coat with fur trim, yellow waistcoat, white frilled chemise, stock and lace cravat, his hair worn

en queue

and tied with black ribbon, a manuscript rolled up in his right hand.

Signed on the obverse and dated

SR/ 75

, rectangular brown leather travelling case lined with blue velvet; together with a loose trade label

RICKARDS/ PINX 1775/ NO 7 PALL MALL/LONDON

.

Oval,

99mm

(

3 7/8in) high

(2)

Literature: A. Graves,

The Society of Artists of Great Britain, 1760–1791 [and] the Free Society of Artists, 1761–1783: a Complete Dictionary of Contributors and their Work from the Foundation of the Societies to 1791

, 1907, p.213; B. Long,

British Miniaturists 1520-1860

, 1966, p.364.

Thomas Pennant was a naturalist and antiquary. He was the eldest son of landowner, David Pennant (d.1763) and his wife, Arabella Mytton (d.1744). He enrolled at Queen's College, Oxford in 1744 but left without his degree - not unusual for students from wealthy families of this time. His interest in natural history surfaced at the age of twelve, when he received a copy of Francis Willoughby's 'Ornithology'. Pennant began studying fossils and minerals following a tour in Cornwall, where he met the antiquary and naturalist, Revd Dr William Borlase. This encounter formed the basis of his scientific studies throughout the 1750s.

Pennant is most famous for publishing several accounts of his journeys across the British Isles, including 'A Tour in Scotland' and 'Tours in Wales', which preserved the record of important antiquarian relics which are now lost. About 800 specimens collected by Pennant survive in the British Museum today. He is also recognized for his zoological publications, including 'British Zoology' and 'A History of Quadrupeds'. He was elected a Fellow of the Society of Antiquaries in 1754 but was forced to resign in 1760 when he could no longer afford the annual subscription fees.

In April 1759 Pennant married Elizabeth Falconer, daughter of James Falconer, a Lieutenant in the Royal Navy. The couple had three children, two of whom survived into adulthood. In 1777, more than ten years after Elizabeth's death in 1764, Pennant married Anne Mostyn (d.1802), the eldest daughter of Sir Thomas Mostyn, fourth Baronet (d.1758). Their marriage produced two children. Pennant died at Downing, his family home in the parish of Whitford on 16 December 1798.

Thomas Gainsborough painted Pennant's portrait in 1776, a year after the present lot was exhibited by Rickards at 7 Pall Mall in 1775 (no. 400). Both works show the sitter as a very learned man, with books featuring in each composition.