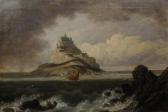 David Lay
Apr 1, 2010
Some works of R.F. Rickards
Extracted between 2 works in the catalog of Arcadja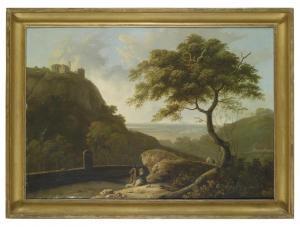 Original 1806
Lot number:
306
Other WORKS AT AUCTION
Description
:
R.F. Rickards (British, active 1806-1827) A view of Tivoli with the Temple of Vesta and the Temple of the Sibyl indistinctly signed and dated 'R F Rickards 1806' (lower right) oil on canvas 36½ x 52 in. (92.8 x 132 cm.)
(Possibly) commissioned by William Cavendish, 5th Duke of Devonshire (1748-1811), or one of his wives, and by descent to The Dukes of Devonshire, Chatsworth, Derbyshire. Anonymous sale; Christie's, London, 24 July 1987, lot 155A, as 'The White Monk, R.F. Rickards after Richard Wilson, R.A.
Catalogued in 1987 as being after Richard Wilson's celebrated White Monk, this picture is actually inspired by that work and other Wilson compositions (perhaps closest to his Tivoli: The Temple of the Sibyl and the Campagna in the National Gallery of Ireland, Dublin), without being a direct copy after any of them.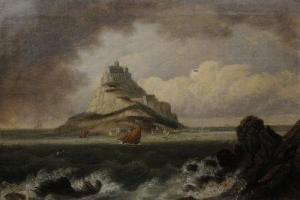 Original
Lot number:
221
Other WORKS AT AUCTION
Description
:
R. F. RICKARDS
St. Michael's Mount with shipping.
Oil on canvas.
Signed.
16 x 22ins.
(See Illustration)