Wolfgang Reisewitz
Tweet
(
1917
)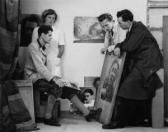 Some works of Wolfgang Reisewitz
Extracted between 1 works in the catalog of Arcadja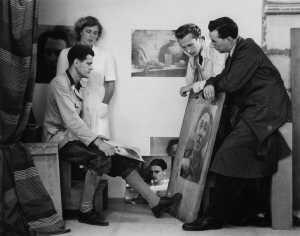 Original 1949
Lot number:
186
Other WORKS AT AUCTION
Description
:
Vintage, Gelatinesilberabzug auf
Agfa-Brovira-Papier, hochglänzend. 16,8 x 21,4 cm, Blattgröße 17,4
x 21,9 cm. Rückseitig mit Photographenstempel, darin mit Tinte
betitelt und mit Angabe der Negativ-Nr. sowie zusätzlich mit
Bleistift bezeichnet
Studienarbeit,

Schule

Lazi

(sen.)

1949
. - Kleiner Einriß an der
Oberkante, mit zwei schwachen Knickfalten, linke Ecken leicht
bestoßen.

Vintage, gelatin silver print on Agfa-Brovira paper, glossy. 6.6 x
8.4 in., sheet 6.9 x 8.6 in. The verso with the photographer's
stamp, within which titled and with the negative number in ink,
additionally inscribed
Studienarbeit,
Schule
Lazi

(sen.)

1949
in pencil. - Small tear on the upper
edge, with two weak fold, the left corners lightly bumped.