Maria Raube-Gorchilina
Tweet
(
1900
- &nbsp
1979
)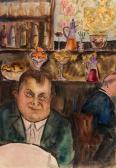 Shapiro Auctions
Oct 30, 2016
Some works of Maria Raube-Gorchilina
Extracted between 3 works in the catalog of Arcadja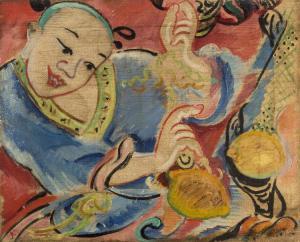 Original 1938
Lot number:
10
Other WORKS AT AUCTION
Description
:
MARIA RAUBE-GORCHILINA (RUSSIAN 1900-1973), Tea Ceremony in Krylatskoye, 1938, oil on unstretched and unframed canvas, 15 5/8 x 19 1/4 in (39 1/2 x 48 cm), signed lower left and certified on verso. LOT NOTES Raube-Gorchilina began her art studies at the Moscow school of painting, sculpturing and architecture in 1917. In 1920 she married sculptor L. Gorchilin. In 1930\`\`\`\`\`\`\`\`s she worked as the designer of exhibitions and created new fabrics\`\`\`\`\`\`\`\` patterns. In 1930 she became the member of Vsekokhudozhnik. During 1935 she worked as the decorator of films in Detfilm, from 1939 until 1941; as the designer at Exhibition of achievements of a national economy (VDNKh). Since 1947 she worked at Mosfilm and at VDNKh as the master of stained-glass windows. In 1953-1957 she worked at a Glass factory as the designer and created watercolors and monotypes.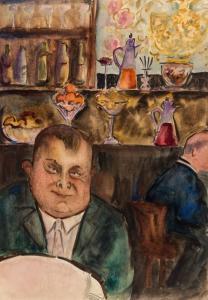 Original c.1920
Lot number:
142
Other WORKS AT AUCTION
Description
:
MARIA RAUBE-GORCHILINA (RUSSIAN 1900-1973) NEP (New Economic Policy), circa 1920s, watercolor on paper, 16 x 11 in (40 1/2 x 28 cm), signed on verso. LOT NOTES Raube-Gorchilina was a Russian and Soviet Avant-garde painter and graphic artist. Studied in VHUTEMAS-VKHUTEIN under Sergei Malyutin, Vasily Yakovlev, Dmitry Kardovsky and Vadim Falileyev.She worked at home (until 1928), designed exhibition layouts and textiles (from 1928). She painted fabrics for Vsekhudozhnik at 11 Kuznetsky Most (from 1930), designed sets and costumes for the Children's Film Studios and the All-Union Central Council of Trade Unions Theatre (from 1935), worked as a folklore specialist at the All-Union Exhibition of Agriculture (1939-41). She designed doors for GUM Department Store on Red Square and the ceiling of the banqueting hall of the Prague Restaurant on Arbat Square. She painted watercolour pictures (1955-57), took up monotype and abstract art (early 1960s) and felt-tip pen drawing (1972). She was popularly known as Madame and patroness of a salon for nonconformist artists in her communal apartment near Petrovka Street in Moscow (1950s-70s).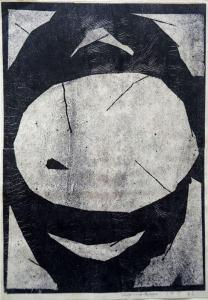 Original 1973
Lot number:
650
Other WORKS AT AUCTION
Description
:
Maria Raube-Gorchilina (1900 - 1979) Feel the highlight. 1973, paper, monotype, 53.5x38 cm