Lieutenant James Rattray
Tweet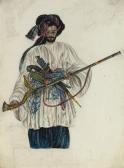 Christie's
Sep 26, 2007
Some works of Lieutenant James Rattray
Extracted between 2 works in the catalog of Arcadja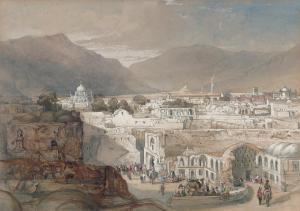 Original 1840
Lot number:
52
Other WORKS AT AUCTION
Description
:
Lieutenant James Rattray (fl.1840s)

Interior of the City of Kandahar, from the House of the Sirdar
'Meer dil Khaun' Brother of the King of Caubul

pencil watercolour and gouache on paper, heightened with
white

10¾ x 15 1/8in. (27.3 x 38.3cm.)
Engraved
Lieutenant James Rattray, Scenery, Inhabitants, & Costumes,
of Afghaunistan 1847-48, pl. 23
Lot Notes
James Rattray sketched Kandahar in December 1841 from the
rooftop of the former residence of the province's governor, Sirdar
Meer Dil Khaun, who was brother to the Emir. Pictured on the left
is the tomb of Ahmed Shah Durrani and on the right the Bala Hissar
(fort) and citadel. Rattray wrote that Kandahar, a Durrani capital,
was situated in a well-cultivated and fertile irrigated plain
circled by mountains: 'Every hill and building around rejoices in
some singular title and each has its legend'.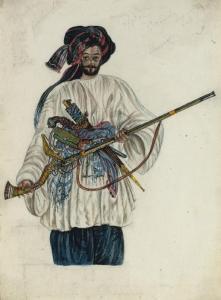 Original
Lot number:
435
Other WORKS AT AUCTION
Description
:
James Rattray (fl.1840s)
Meer Alum. A Coistaunee warrior
indistinct annotations
pencil and watercolour on paper
10 5/16 x 7½in. (26.2 x 19.1cm.)
Engraved
J. Rattray, Scenery, Inhabitants, & Costumes. Afghaunistan. From Drawings taken on the spot by James Rattray, Esq. Lieut 2nd Grenadiers Bengal Army, London, 1847, no. 12 ('Koh-I-Staun Foot Soldiery in summer costume').
Lot Notes
Rattray comments in his introduction to this plate that the 'Coistaun Foot Soldiery' are 'of considerable importance in the event of any revolution in which they may take part and continues: ' ... The figure in this sketch is a Coistaunee and his name Meer Alum. He was formerly one of a band of noted robbers, who infested the Ghoorburd Pass (the high road to Toorkistan north-west of Begraum). They were commanded by a chief called Hussun, who levied black-mail on everything passing through his mountain defiles, and, resisting every attempt made to take him, became the terror of the whole country. ... Their dress consisted of the blue, red or white loose shirt, worn outside the full trouser; "Kummerbund" (waist-belt) of muslin or Peshawuree "loonghee", a plaid scarf of silk and cotton mixture, from which hung the "Kummerkeesa", or embroidered Russia leather powder, shot, and bullet purses, with a variety of useful articles suspended on fantastically-shaped hooks, consisting of diminutive hammers, gunpicks, knife, and rosary. On their heads, they wore the high flowing turban, or close skull-cap. Their arms were short iron spears, shields of buffalo or rhinoceros hides; "chroras", or straight knives from twenty five to thirty-five inches in length; blunderbusses, called "sherebuchchas" (iron whelps); "tofungs", matchlocks, with barrels forty-six inches long, and stocks studded in ivory, brass, or silver patterns; curved swords, and "juzznails".' (J. Rattray, op. cit., facing p.12).