Armand Albert Rateau
Tweet
Follow the artist with our email alert
(
1882
-&nbsp
1938
)&nbsp-&nbsp
Artworks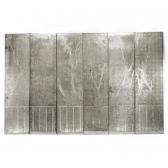 Sotheby's /
Jun 19, 2007
€89,532.19 - €134,298.29
€102,954.34
Some works of Armand Albert Rateau
Extracted between 3 works in the catalog of Arcadja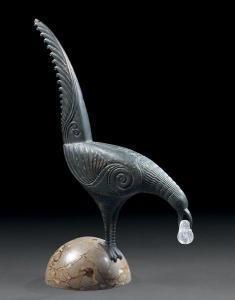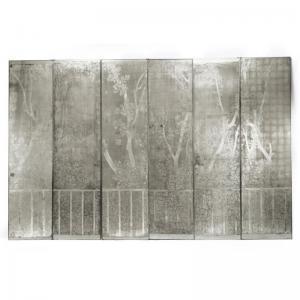 Original
Lot number:
151
Other WORKS AT AUCTION
Description
:
ARMAND-ALBERT RATEAU (1882-1938) - SEVEN RARE DOOR PANELS FOR THE COMTESSE DE BEAUREPAIRE, PARIS - PROPERTY OF A NEW YORK CITY COLLECTOR
Mis: 100 x 27 3/4 in. (254 x 70.5) for the widest
ca. 1924 lacquer and silver leaf on plaster board Illustrated: Alastair Duncan, AA Rateau, exh. cat., DeLorenzo Gallery, New York, 1990, p. 18 (for a period photograph of the doors)

PROVENANCE
Comtesse de Beaurepaire, Boulevard St. Germain des Pres, Paris Bernard Steinitz, Paris

REFERENCES
Alastair Duncan, AA Rateau, exh. cat., DeLorenzo Gallery, New York, 1990, p. 27 (for a related three-panel screen from the Rateau residence in Paris) Franck Olivier-Vial and François Rateau, Armand-Albert Rateau: Un Baroque chez les Modernes, Paris, 1992, pp. 129, 141 and 147 (for related examples) Héléne Guéné, Décoration et Haute Couture: Armand-Albert Rateau pour Jeanne Lanvin, un autre Art Déco, Paris, 2006, p. 158 (for the related lacquer and silver Chasse au Cerf screen in the collection of the Musée des Arts Décoratifs, Paris)

CATALOGUE NOTE
These seven door panels are extremely rare examples of Armand-Albert Rateau?s work and reflect his brilliance in creating exotic and luxurious environments for his wealthy clients. In 1924 at the height of Rateau?s career, the Comtesse de Beaurepaire commissioned him to design her townhouse on the Boulevard St. Germain des Pres. This commission came just after Rateau had completed the interiors for Jeanne Lanvin?s townhouse, today part of the permanent collection in the Musée des Arts Decoratifs, Paris. During the same time period, he also worked on the sublime suite of rooms for the Blumenthal?s Château de Malbosc near Grasse in the south of France. In these previous commissions Rateau had free reign to design everything from wall coverings and furniture to door handles and faucets. For the Comtesse, however, he was obliged to incorporate his designs within a purely traditional existing décor. This special ability to blend his distinctly neo-classical, yet modern designs, with existing antique ensembles became the signature of much of Rateau?s work and a measure of his brilliance. These wonderfully crafted silver-leaf door panels were used throughout the Comtesse?s townhouse to create a coherent atmosphere in conjunction with her existing Louis XV and Louis XVI furniture pieces. It is not known how many of these door panels were designed for the townhouse, but it is a miracle that any at all have survived because of the extremely delicate trompe-l?oeil workmanship and material that was involved. Later in 1934 the Comtesse commissioned Rateau once again to design and furnish her townhouse this time on the Rue du Marechal Maunoury in Paris. It is possible that these same panels were either removed and stored in a warehouse or they were simply re-installed in the new residence. Although Rateau used silver lacquer panels throughout his career, it is incredibly rare to find surviving examples remaining from this time period due to their fragile nature and also because such panels, unlike furniture, were often destroyed during demolition of an interior. Related examples have not come up at auction for many years.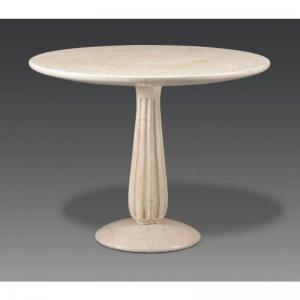 Original 1930
Lot number:
202
Other WORKS AT AUCTION
Description
:
N/A This lot is sold subject to Sotheby's Conditions of Sale. As stated in the Conditions, all lots are sold on an "AS IS" basis. Prospective bidders should review the Conditions and Buying at Auction guide.