John Raffles Cox British
Tweet
(
1887
- &nbsp
1977
)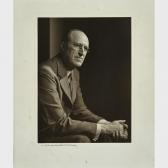 Some works of John Raffles Cox British
Extracted between 1 works in the catalog of Arcadja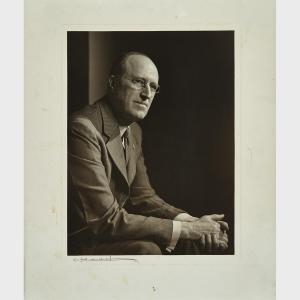 Original
Lot number:
6
Other WORKS AT AUCTION
Description
:
JOHN RAFFLES COX (1887-1977), BRITISH
ARCTIC VIEWS OF AN EXPLORER, C. 1913 - C. 1920 INCLUDING:
YOUSUF KARSH (1908-2002), Canadian, PORTRAIT OF JOHN RAFFLES COX, Gelatin silver print; signed in ink, in original Karsh folding matboard;
Vintage photograph; signed and titled \"LOADING UP THE CAN. ARCT. EXPED. SCHOONER \'ALASKA AT NOME\'\' JULY 1913 AND CHIPMAN ON THE DECK (ENLARGEMENT OF VEST POCKET KODAK NEGATIVE) J.R. COX\" verso;
Five small black and white photographs and two postcards depicting scenes from Inuit life;
Three large black and white photographs: portraits of standing Inuit;
Cox\'\'s folding map with handwritten title: \"Coronation Gulf and Arctic Archipelago\" on label from seller Sifton, Praed & Co., Ltd., The Map House, London;
Framed photograph of Cox and Crew, each sitter identified verso;
Framed black and white photograph; titled and dated: \"The \'North Star\'\' at Coronation Gulf N.W.T. (Bernard Harbour), 1915\" verso; and
Four additional photographs of Cox exploring India, circa 1920\'\'s. Two framed.
Various unframed and framed sizes 3.25" x 4.75" — 8.3 x 12.1 cm.; 13.5" x 16.5" — 34.3 x 41.9 cm.