J Raffield
Tweet
(
1700
- &nbsp
1700
)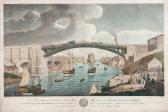 Dreweatts & Bloomsbury Auctions
Feb 12, 2014
Some works of J Raffield
Extracted between 2 works in the catalog of Arcadja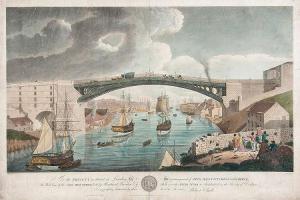 Original
Lot number:
441
Other WORKS AT AUCTION
Description
:
Description:
J. Raffield (late 18th Century) - West View of the Cast Iron Bridge built by Rowland Burdon, M.P. over the River Wear at Sunderland,
etching and aquatint, with hand-colouring, circa 1798, J. & J. Taylor, 500 x 740 mm. (19 3/4 x 29 in) § After R. Thompson . Elevation of the Viaduct over the Sankey Canal and Valley, on the Line of the Liverpool and Manchester Railway, engraving, 360 x 710 mm. (14 1/4 x 28 in); with an engraved elevation of the Iron Bridge cast at Coalbrookdale, erected over the River Severn, 440 x 650 mm. (17 1/4 x 25 1/2 in), an engraved View of the Upper Works at Coalbrook Dale, 1758, trimmed, 380 x 520 mm. (15 x 20 1/2 in), an engraving of The 'machine of Marly', a large structure built on the river Seine to pump water from the river into a reservoir filling the fountains at Versailles and Marly, published by Gilles Demortain, 430 x 590 mm. (17 x 23 1/4 in), all unframed, (5).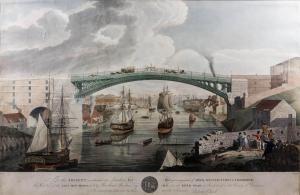 After
Lot number:
396
Other WORKS AT AUCTION
Description
:
J. Raffield (fl. 19th Century after Robert Clark) - Coloured aquatint - This West View of the Cast Iron Bridge built by Rowland Burdon Esq. M.P. over the River Wear at Sunderland in the County of Durham", 16.5ins x 29ins, in Hogarth frame and glazed