Bijan Rafaty
Tweet
Iran
(
1940
)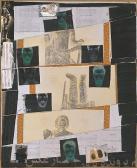 Bonhams
Jun 2, 2010
Some works of Bijan Rafaty
Extracted between 3 works in the catalog of Arcadja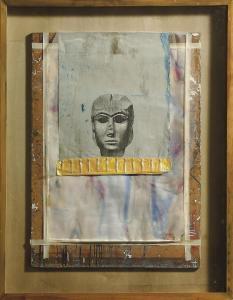 Original 2000
Lot number:
139
Other WORKS AT AUCTION
Description
:
BIJAN RAFATY (IRAN, NE EN 1940 A TEHERAN)
Mariage de convenance, Série Prometchee
signé et daté 'Bijan 2000' (en bas à droite)
aquarelle sur collage de papier et gaze sur panneau dans une caisse en bois et verre
89 x 64 cm. (35 x 25¼ in.)
Réalisé en 2000.
" f " : In addition to the regular Buyer's Premium, a commission of 5.5% (i.e. 6.578% inclusive of V. A. T.) will be charged to the Buyer. It will be refunded to the Buyer upon proof of export of the lot outside the European Union within the legal time limit.
MARRIAGE OF CONVENIENCE FROM THE PROMETCHEE SERIES, WATERCOLOUR ON PAPER COLLAGE WITH GAUZE MOUNTED ON BOARD IN WOOD AND GLASS CASE, SIGNED AND DATED BY BIJAN RAFATY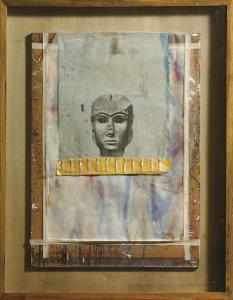 Original 2000
Lot number:
116
Other WORKS AT AUCTION
Description
:
Signed and dated 'Bijan 2000' (lower right)
watercolour on paper collage with gauze, mounted on board in wood and glass case
35 x 25¼in. (89 x 64cm.)
Executed in 2000
Stepping into Bijan Refaty's studio, one recalls the wonder experienced when in a museum and being surrounded by the strange, the exotic and the ancient. In a way a little like that of the late American artist Joseph Cornell, Refaty collects dispirate objects, often with archaeological overtones, and assembles them, often in wooden cases, which become both part of the finished artwork and a window through which to view it.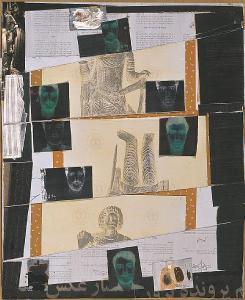 Original 2000
Lot number:
79
Other WORKS AT AUCTION
Description
:
Bijan Rafaty (Iran, born 1944)
Matins
, zinc plate cut-outs,photographs and gauze mounted on board, signed and dated 2000 inEnglish lower right,
89 x 72cm (35 1/16 x28 3/8in).
This work is from a series titled Prometheus .