Angelo Puccinelli
Tweet
Follow the artist with our email alert
(
1350
-&nbsp
1399
)&nbsp-&nbsp
Artworks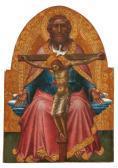 San Marco /
Dec 17, 2006
€300,000.00 - €400,000.00
€692,800.00
Some works of Angelo Puccinelli
Extracted between 3 works in the catalog of Arcadja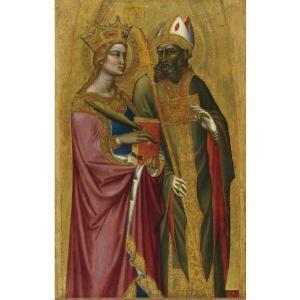 Original -
Lot number:
106
Other WORKS AT AUCTION
Description
:
LOT 106 SOLD BY THE J. PAUL GETTY MUSEUM TO BENEFIT FUTURE PAINTINGACQUISITIONS ANGELO PUCCINELLI ACTIVE IN SIENA AND LUCCA, 1350-1399 SAINT CATHERINE AND A BISHOP SAINT, POSSIBLY SAINT REGULUS tempera and gold ground on panel 100,000—150,000 USD 32 by 20 1/4 in.; 81.3 by 51.4 cm. PROVENANCE Marguerite A. Keasbey, Morristown, New Jersey, before1961;Her deceased sale, New York, Parke-Bernet Galleries, Inc., 10 May1961, lot 7 (As Veneto-Ferrarese School, 14th Century, SS.Catherine and Louis of Toulouse);With Frederick Mont, Inc., New York;From whom acquired by Thomas S. Hyland, Greenwich, CT, 1964;His sale, "Property of Mr. and Mrs. Thomas S. Hyland," London,Christie's, 23 June 1967, lot 66 (as Angelo Puccinelli, SaintCatherine of Alexandria and Saint Moses);Acquired by The J. Paul Getty Museum, Malibu, 1970. EXHIBITED Hartford, CT, Wadsworth Atheneum, An Exhibition of ItalianPanels and Manuscripts from the Thirteenth and Fourteenth Centuriesin Honor of Richard Offner, 9 April - 6 June 1965, no. 29. LITERATURE AND REFERENCES F. Zeri, "Angelo Puccinella a Siena," in Bolletino d'arte, vol.49 (1964) pp. 234-235, reproduced p. 235;S.J. Wagstaff, Jr., "Hartford Glimpses the Pre-Renaissance," in ArtNews (May 1965) pp. 33-34;B. Berenson, Italian Pictures of the Renaissance: Central and NorthItalian Schools, New York 1968, vol. I, p. 349;A. Gonzalez-Palacios, "Posizione di Angelo Puccinelli," inAntichità Viva, vol. X (1971) pp. 3-9, reproduced p. 7, fig.11;B. Fredericksen, Catalogue of the Paintings in The J. Paul GettyMuseum, Malibu 1972, p. 5, no. 5;M. Boskovits, Pittura fiorentina alla vigilia del Rinascimento,Florence 1975, p. 247, under no. 235;Dizionario Enciclopedico Bolaffi dei pittori e degli incisoriitaliani, Turin 1975, p. 255;M. Laclotte, Inventaire des collections publiques françaises, 21:Avignon, Musée au Petit Palais. Peinture italienne, Paris 1976,under no. 206;P. Cerri, et. al., La Pittura in Italia: Il Duecento e il Trecento,1985, vol. II, p. 655;M. Tazartes, "Profilo della pittura lucchese del Trecento," inRicherche di Storia dell'arte, vol. 50 (1993) p. 97;D. Jaffé, Summary Catalogue of European Paintings in The J. PaulGetty Museum, Los Angeles 1997, p. 101, reproduced;A. De Marchi, "Angelo Puccinelli," in Sumptuosa tabula picta:Pittori a Lucca tra gotico e rinascimento, Lucca 1998, exh. cat.,Lucca, Museo Nazionale di Villa Guinigi, 28 March - 5 July 1998,pp. 152-153, reproduced p. 153, fig. 105;F. Boggi, "Painting in Lucca from the Libertà to the Signoria ofPaolo Guinigi: Observations, Proposals and New Documents," in ArteCristiana, vol. 87 (March-April 1999) pp. 106-107, reproduced p.107, fig. 2, pp. 113-114 (note 20);M. Laclotte and E. Moench, Peinture italienne: Musée du PetitPalais, Avignon, Paris 2005, p. 180, under no. 235, reproduced fig.1. CATALOGUE NOTE This well-preserved panel once formed the left wing of analtarpiece produced either in Siena during Puccinelli's period ofactivity in that city, or in the artist's native Lucca. Althoughthe central panel is as of yet untraced, the right wing,representing Saints John the Baptist and Mary Magdalene (see fig.1), is conserved in the Musée du Petit Palais, Avignon (inv. no.22809). Andrea De Marchi has also suggested that a Trinity byPuccinelli currently in a private collection once formed thecentral pinnacle of the now-lost central panel.1 Thefigures must originally have been portrayed full-length, althoughboth the present and Avignon panels have since been cut down at thetop and bottom in the same fashion.In his 1964 article, "Angelo Puccinelli a Siena," Federico Zerisuggested the very early date of circa 1350 for these panels, whichplaces them almost 30 years prior to the first mention of theartist in the documented sources.2 In the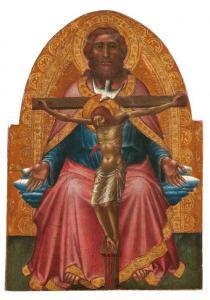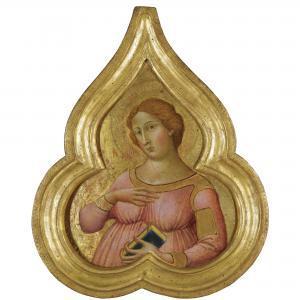 Original
Lot number:
102
Other WORKS AT AUCTION
Description
:
LOT 102 ANGELO PUCCINELLI DOCUMENTED IN SIENA AND LUCCA FROM 1380 TO 1407 A FEMALE MARTYR SAINT, HALF LENGTH tempera on panel, gold ground, trilobe shape 41.2 by 31 cm.; 16 1/4 by 12 1/4 in.